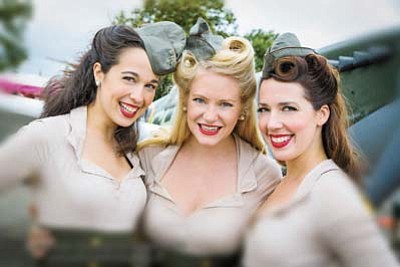 Originally Published: November 5, 2015 6:16 p.m.
"Straighten Up and Fly Right" and "Hold Tight" to those "Three Little Sisters" as the Manhattan Dolls make their way to the Elks Theatre and Performing Arts Center, 117 E. Gurley St. Performing a "Sentimental Journey" through the music of the 1930s and 1940s on Saturday, Nov. 7, the Dolls provide a nostalgic trip for older audience members and inspire the younger generation with musical elegance.
Annemarie Rosano is one of the Manhattan Dolls and has been doing the show for about six years. Performing such a nostalgic show is in her blood, Rosano said.
"I loved watching old movies with my grandma," Rosano said, adding her mother was a dance teacher who used the old music in teaching choreography. "It was always just kind of a part of me."
The Dolls' performance will be at 7 p.m. and tickets are $25 for adults, $22 for seniors and $30 for opera box seats. They're available online at www.prescottelkstheater.com, by calling 928-777-1370 or at the door one hour before the performance.
There's a certain joy to traveling all over the place to put the Manhattan Dolls show on, Rosano said. She noted her love of traveling all over the world and seeing places from the perspective of the locals. But what really moves Rosano is when she sees someone in the audience, where the average age is 75, be transported by the performance to an earlier time and place.
"They've left the room and have gone somewhere else," Rosano said. "For an evening, they're young again. It feels like I'm doing something good."
At the same time, Rosano urges the younger generation to attend the show or for the average attendee to bring somebody younger with them. She said there's a certain elegance to the music that is inspirational to a new generation.
By Jason Wheeler. Follow reporter Jason Wheeler on Twitter @PrescottWheels. Reach him at 928-445-3333 ext. 2037 or at 928-642-5277.