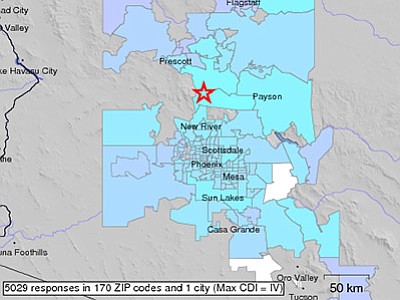 Originally Published: November 2, 2015 6:39 a.m.
PHOENIX - Three small earthquakes rattled parts of central Arizona and were felt in the Phoenix area. There were no immediate reports of injury or major damage.
The U.S. Geological Survey said a magnitude 4.1 temblor struck at 11:29 p.m. Sunday, followed by a 4.0 quake about 20 minutes later. A smaller, magnitude-3.2 quake, hit at 9 p.m.
The USGS said all the quakes ranged from 3 to 6 miles in depth and were centered near Black Canyon City, about 45 miles north of Phoenix.
Black Canyon City resident Tami Barto said she woke up when one of the quakes shook her home and stirred up her dogs.
"It did worry me. It was quite a shake," Barto said, adding that she found no damage at her home or the service station where she is the manager.
Black Canyon City is located in a rural part of southeastern Yavapai County just north of the Maricopa County line.
The Yavapai County Sheriff's Office got numerous calls but had no reports of damage or injury, spokesman Dwight D'Evelyn said. The Maricopa County Sheriff's Office had no reports of damage, according to spokesman Chris Hegstrom.
The USGS website recorded scores of responses from people in such suburban Phoenix cities as Cave Creek, Peoria, Scottsdale and Glendale who reported feeling at least one of the quakes.
Arizona Public Service Co. had an outage affecting 9,700 customers in Peoria start shortly after 11 p.m. Sunday, but it was due to equipment failure at a substation, the utility's spokesman, Alan Bunnell, said.
"We had no reason to believe it had anything to do with the earthquakes."