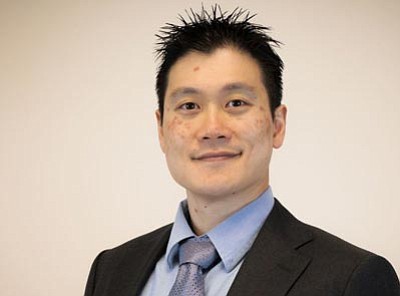 Originally Published: May 31, 2015 6 a.m.
The Pain Center of Arizona has announced Dr. J. Gabriel Tsang as its leading physician for their Prescott clinic. Dr. Tsang will oversee and administer a number of pain management treatment options including injection therapies, pain rehabilitation and minimally invasive spine procedures.
"We are excited to have Dr. Tsang head up the Pain Center of Arizona Prescott clinic," says Dr. Steven Siwek, CEO and Founder of The Pain Center of Arizona. "Dr. Tsang is double board certified in Pain Management and Anesthesiology and joins our team with training from top medical institutions. He will be a terrific addition to the practice."
Dr. Tsang graduated from The University of Sydney, NSW, Australia and completed his residency at Johns Hopkins Hospital in Baltimore. He then completed fellowship training in pain management at the prestigious MD Anderson Cancer Center in Houston, Texas before coming to Arizona. He finds joy in treating patients with chronic pain and helping them regain control of their lives.
"Chronic pain is not just a physical phenomenon, but one that can deeply affect the mental state as well," says Dr. Tsang, leading physician at The Pain Center of Arizona Prescott clinic. "I want my patients to be able to gain independence from their pain and not let it define who they are. This allows them to get back to enjoying the things they love."
Dr. Tsang has held membership and leadership positions in a variety of community and educational groups, and is active in medical research and publication. In his spare time, Dr. Tsang enjoys martial arts, zoology, and staying active. The Prescott clinic is open five days a week and conveniently located at 3110 E. Clearwater Drive, Suite B Prescott, Arizona. Appointments can be made by calling 928-237-9312.
More like this story