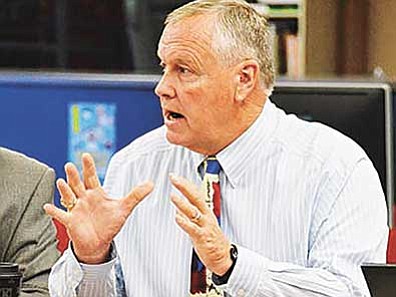 Originally Published: May 27, 2015 11:23 p.m.
Yavapai County has a teacher shortage, and education administrators want to connect potential teachers living in the region with programs to add them to school faculties.
In the 2014-15 school year, 38 teaching positions went unfilled in schools across Yavapai County, Yavapai County School Superintendent Tim Carter said.
It's a problem that impacts all grade levels, he said, "everything from kindergarten to high school physics."
"We have been seeing an increase in that number over the last eight years or so, but never to the degree we saw this year."
He said the greatest needs are in the areas of math, science, special education and foreign language, along with various positions in career and technical education.
The lack of teachers led Yavapai County Education Service Agency to send a recruiting team to the Midwest, where colleges and universities in states like Indiana and Michigan graduate more teachers than there are job openings.
But a second problem compounds the teacher shortage: Between 40 percent and 45 percent of teachers that start their careers in Yavapai County leave the area within the first two years on the job. The bottom line, Carter said, is that recruiting teachers from outside the area isn't filling the area's long-term needs.
He said YCESA, school districts and charter schools in the county are looking to recruit teachers from the population that's already living in the area - people who have put down roots.
He said potential teachers might be empty-nesters approaching retirement age but looking toward a second career, workers laid off in other fields, community members who are just looking for a career change, or teachers who are certified in one area but want to add a certification to teach a different grade level or subject. "The focus is finding people here locally," he said. "We want to find people we already know."
He said YCESA fills a role of connecting potential teachers with programs to help them finish a bachelor's degree or teaching certification and then connect them with the districts and charters where there are openings.
One of those programs is a partnership with Northern Arizona University, and YCESA will host two upcoming informational meetings for potential teachers. The first in Thursday, May 28, and the second is June 16. Both meetings begin at 5:30 p.m. at the NAU-Yavapai Campus on Civic Circle in Prescott Valley.
Carter said the search for local teachers is not limited to NAU, but the school has stepped up with YCESA in the current effort. He added YCESA can work with other colleges and universities to help potential teachers find the programs that work for them.
"We hope they'll come to one of these meetings," he said.
Anyone interested in the agency's teacher recruiting efforts can contact Carter or Stan Goligoski at the YCESA by calling YCESA at 928-771-3544, or email Goligoski at stan.goligoski@yavapai.us.
Follow Les Bowen on Twitter @NewsyLesBowen. Reach him at 928-445-3333 ext. 1110, or 928-830-9305.