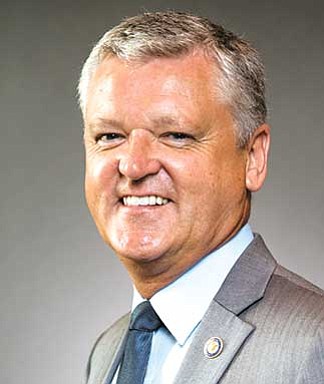 Originally Published: May 27, 2015 6:03 a.m.
Embry-Riddle Aeronautical University's chief operating officer Dr. John R. Watret has been named interim president following current ERAU president and CEO Dr. John P. Johnson's resignation announcement made in mid-April.
Watret's new role will begin June 1 and will entail maintaining current conditions at the university until the presidency is officially filled.
"As interim, you want to keep the momentum going," Watret said. "The university is on a very good track."
Watret, who joined Embry-Riddle in 1989 as a faculty member, went on the successive titles of Associate Dean of Academics and Associate Chancellor at ERAU's Daytona Beach, Florida, campus, according to a news release.
In 2006, he began working with ERAU's Worldwide Campus - an online education service for students across the globe, becoming Executive Vice President and Chief Academic Officer and ultimately Chancellor. At the university level he has served as Associate Provost and Senior Vice President and Chief Operating Officer.
In his 10 years as a professor with ERAU, he won both an Outstanding Teaching Award and Outstanding Service Award from the faculty senate at the Daytona Beach campus.
Well recognized in the international aviation industry, Watret led the establishment of Embry-Riddle Asia, headquartered in Singapore, in 2011 and has been instrumental in building university relationships globally throughout Europe, Australia and South America. 
He has served on the executive board of the Conference of Southern Graduate Schools, is a Fellow of the Royal Aeronautical Society, an executive committee member of the Global Aerospace Summit Advisory Board, and has been appointed to the FAA Aviation Aerospace Workforce Committee and the University of Florida Online Advisory Board. 
Dr. Watret holds a Ph.D. and a master's in Mathematics - both from Texas A&M University - and a bachelor's with honors from Heriot-Watt University in Edinburgh, Scotland. A professor and pilot, John, his wife Elizabeth and daughter Sophie are long-time residents of Ormond Beach, Florida.
Dr. Frank Ayers, chancellor of Embry-Riddle's Prescott campus, has known Watret for 15 years.
"I think he's absolutely the right guy for the job," Ayers said.
Ayers echoed Watret's belief that the university is currently in a strong position and that anyone taking on a leadership role within the institution does not need to be making any major overhauls.
Enrollment at both physical campuses has been growing steadily in recent years, with the Prescott campus reaching an enrollment record of more than 2,000 students this last fall semester, according to Ayers.
The Prescott campus is also seeing the construction of several large facilities, including a residence hall, new athletics facility and new stem building.
"Adding all of the dollars up, it's probably close to $45 (million), maybe $50 million in construction in the next two to three years," Ayers said.
Watret anticipates the election for ERAU president to take place sometime in November. As of right now, he plans to participate in the race.
"I'll probably submit a full application like any other candidate from anywhere else," Watret said.
Follow Max Efrein on Twitter @mefrein. Reach him at 928-445-3333 ext. 1105, or 928-642-7864.
More like this story