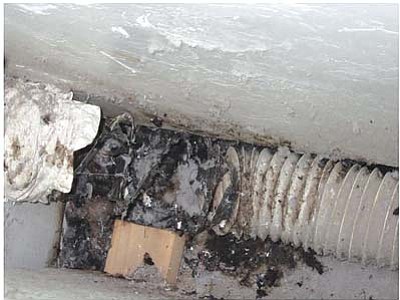 Originally Published: May 15, 2015 6 a.m.
I remember an old adage about a cobblers' children not having shoes. And I remember hearing my mother say "a mechanic's car never runs." My mother was talking about classic cars my dad and I had. If it is not your "daily driver," then it doesn't matter if you finish everything Sunday and got her running. You can continue next Sunday. That's what makes having a classic car fun - you don't have to finish every project right away so you can get to work the next day.
I added "a contractor's house is never finished." This was after I inspected several contractors' homes that were not quite complete. They never got to the baseboard molding in the office, or installing the door at the master bath linen closet, or the hardware on the guest bath cabinets.
And it's not just contractors' homes - I find this in other homes too. When you live in a home every day, it is easy to get used to and overlook something that will be quite noticeable to an inspector (and possibly a buyer).
Once I inspected a home with wood shutters on the exterior walls, next to all the windows. Like almost every exterior shutter I've seen these were cosmetic features. The shutters were screwed to the wall and did not actually close. Every other shutter on the front was missing. I found them in the rear yard, under the deck. It seems the owner took them off to give them a thorough cleaning, three years ago. The owners were so used to it now that they didn't even notice the missing shutters when looking at the house.
Now I can add another saying - "a home inspector's home will need inspecting." I tell people almost every day how important it is to keep your dryer duct clean. Not only does it take an hour to dry a load of clothes if your duct is dirty, it can be a fire hazard. The following is from the National Fire Protection Agency (NFPA) website:
"In 2010, an estimated 16,800 reported U.S. non-confined or confined home structure fires involving clothes dryers or washing machines resulted in 51 civilian deaths, 380 civilian injuries and $236 million in direct property damage.
"Clothes dryers accounted for 92 percent of the fires. The leading cause of home clothes dryer and washer fires was failure to clean (32 percent), followed by unclassified mechanical failure or malfunction (22 percent). Eight percent were caused by some type of electrical failure or malfunction."
I found other statistics that were "scarier," but I tend to trust the NFPA. Let's see - 16,800 fires; 92 percent are dryer - that's 15,456. But only 32 percent were from "failure to clean" - that's 4,946. I personally think lack of cleaning may have contributed to some of the "unclassified mechanical failure or malfunction" fires too.
That's almost 5,000 fires a year that could be easily avoided. How many times have I reported on improper or dirty clothes dryer ducts? Hundreds, if not thousands. I tell clients some of the things to look for are longer drying times, your clothes or dryer seem "hot," or any unusual "burning" odor. If practical, you can check the airflow at the exterior vent while the dryer is operating.
So, it seemed like my clothes were a little hotter than normal last weekend. But I did not have time to check my dryer duct. Then I inspected a home last week and found a dryer duct that had caught fire (this is the actual photo from my report). Lint in a dryer duct can catch fire, so we want to keep lint out of the duct.
The easiest way is to clean the lint screen at the dryer before every load, which also saves you money. It is also important there are no "lint traps" in the dryer duct. This can be any irregularity that can catch lint, which will then catch more lint, etc. This will eventually reduce airflow, which will make the air temperature higher. And in a worst-case scenario the temperature can get high enough to ignite the lint (see photo).
Obstructions in dryer ducts can be from loose connections, screws protruding into the duct, excessive elbows, etc. I read my clothes dryer owner's manual and it stated in no uncertain terms that flexible vinyl ducting should NOT be used. It will sag and every "corrugation" can collect lint (see photo). Only smooth wall piping should be used for dryer ducts.
After taking this photo of the burned dryer duct, I went home and checked mine. I had smooth wall duct through the attic, but it had come loose at the vent through the wall. The lint had started to accumulate, decreasing the airflow. And this was not visible at all from the exterior, because it was just inside the attic.
So after telling countless clients to check their dryer ducts, I failed to check my own. I have this urge to go press the "test" button on all my GFCI outlets now.
I found an old email about dryer ducts. I had answered the email, but did not use it in a column. The email stated that I had missed a major problem in my inspection: the clothes dryer vented to the roof. The email said clothes dryer manufacturers do not allow the dryer duct to go "uphill" at all. That is incorrect. Manufacturers "recommend" that dryer ducts do not go "uphill," and that they are as short as possible with as few curves or elbows as possible. But many homes in other states (and a few in Prescott) have the laundry facilities in a basement, where the clothes dryer duct has to go uphill to get outside.
More like this story