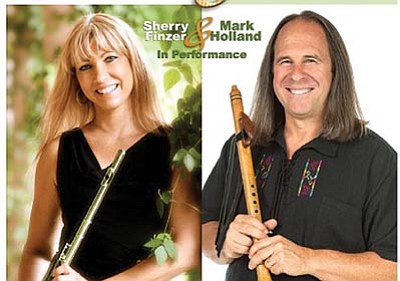 Originally Published: March 12, 2015 6 a.m.
Flute Flight, a duo made up of Mark Holland and Sherry Finzer, offers up a free an afternoon of peaceful, meditative flute music on silver and Native American flutes at Arcosanti.
The concert begins at 3 p.m. on Sunday, March 15.
Mark Holland is considered one of the top flutists performing and recording on Native American flutes today. His unique approach, along with his technical skills, contributes to the title "the Jimi Hendrix of the Native American flute."
Sherry Finzer is an international award-winning American flutist and composer. Her sound is influenced by the different genres of music she plays, by the artists she collaborates with and by the flutes she uses. 
Together they put on a unique and expressive performance in the Arcosanti Amphitheater. For more information, visit http://arcosanti.org/node/13860 or call 928-632-7135.
More like this story