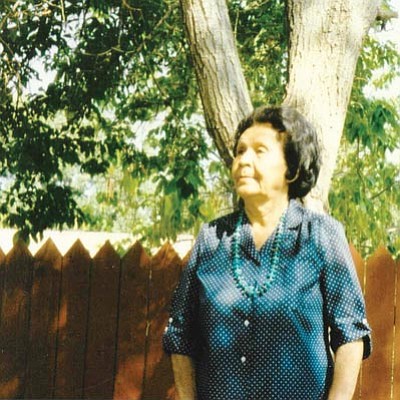 Originally Published: March 11, 2015 6 a.m.
Nancy passed away peacefully at home on March 3, 2015, with her family by her side. Nancy Sarah Montano was born on June 12, 1905 in Clarkdale, Arizona.
She attended schools in Clarkdale as well as Indian boarding schools. She worked in the hotel industry for seventeen years at the Head Hotel in Prescott. She also worked as a private maid in the Prescott area most of her life. She resided mainly in Prescott and Clarkdale and spent her later years in Oakland, California.
Nancy loved animals. She had dogs and cats for many years. She also enjoyed attending Pow Wows and listening to Native American traditional music. Nancy loved to reminisce about the old days in Arizona. She had a good sense of humor and always liked a good laugh. Even though she was small, she was feisty and knew what she wanted. At 109 years old, Nancy was the oldest living tribal member of the Yavapai-Apache tribe.
Nancy was married to Mike Quesada and had a daughter, Evelyn Dolly Quesada, her only child, who went home to the lord before her. She is survived by grandchildren; great grandchildren; great-great grandchildren; and great-great-great grandchildren.
A life tribute in her honor will be at 10 a.m. on Friday, March 13, 2015, at Westcott Funeral Home, 1013 E. Mingus Ave., Cottonwood, Arizona.
Information provided by survivors.
More like this story