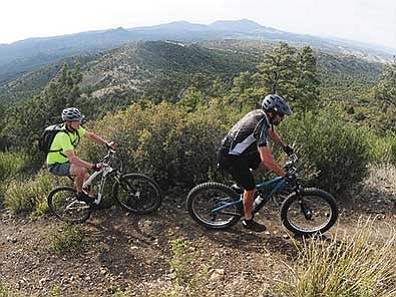 Originally Published: June 23, 2015 6:01 a.m.
Four miles up Senator Highway, off to its east side north of Schoolhouse Gulch Road, lies a tucked-away jewel for mountain bikers.
It's what's referred to in the tight-knit biking community here as the new Ranch Trail, No. 62, a single-track dirt path cut a year or so ago on the Prescott National Forest (PNF), hidden among the Ponderosa pines and shrubs.
On a breezy, partly cloudy, 65-degree late afternoon on Wednesday, May 13, I met veteran mountain bikers and longtime Prescott residents Dave Sewell and Ryan Winkelman at the trailhead to discuss what makes this new Ranch Trail special.
To them, it's simple: They have access to a fairly wide, gently contoured single-track trail that offers panoramic views high above the city that they've never had before, Sewell said. It showcases views of the Bradshaw Basin, upper and lower Goldwater lakes, Wolverton Mountain, Mt. Francis and the White Spar.
Just as important, the vast majority of riders can do this beginner to intermediate ride without struggling. It takes anywhere from a mile to 1-1/4 miles to reach the best viewpoints. Sewell estimates he's ridden the new Ranch Trail 20 to 30 times already.
"It's a hidden gem," Sewell said. "It gives people views of this basin and Goldwater Lake; and when you get around the corner, views of the whole Prescott basin. I've been going everywhere in the mountains here for 45 years, and I was so excited when we got this trail because it's a whole new perspective. It's fantastic."
Winkelman had a similar take.
"I can get all the way to the other side of town (to Walker Road) in a matter of an hour through trails with spectacular views and a nice adventure," said Winkelman, a Prescott Mountain Bike Alliance (PMBA) board member/subcommittee chairman who rode the trail with Sewell that day. "Once you get up in there, there's options."
The new Ranch Trail, which connects to the old Ranch Trail and is part of the Prescott Circle Trail, sits northeast of the well-marked Watershed Trail, No. 299 (motorized multi-use trail that goes straight up the mountain), and directly across from the popular trail No. 396 to Goldwater Lake. Both are accessible from Senator Highway. Once on the Ranch Trail, you can drop onto Boy Scout Trail, No. 126, or head up 299 over to Spruce Mountain, Winkelman said.
Spring is the perfect time to bike the new Ranch Trail, hike it or ride it on horseback before the summer heat arrives. The four-mile trail has a steady, shaded climb at the beginning, with occasional drop-offs to the left, but don't be intimidated - it soon levels out with several moderate, albeit narrow at times, switchbacks.
"It's a pretty good steady climb for about a mile and a quarter," Sewell said. "And then it's kind of along some contours for a ways, with a little climbing, a little dropping, and then another pretty good climb to where it connects to the old Ranch Trail right on the ridge at the high point between Senator Highway and Walker Road.
"The old Ranch Trail, from there, just bombs down towards Walker Road, and it's rocky and steep and really chunky. But there's a reroute in the works to make it more like this trail."
Winkelman and Sewell encourage beginning riders to walk with their bikes when they encounter a difficult stretch on the new Ranch Trail, then hop back on and ride once it's more manageable.
About a mile into your ride, get off again and fix your gaze west for a few minutes.
On the ridge of the hill you're climbing, peer down at a beautiful, unobstructed view of Goldwater Lake. Keep going a short ways and you'll notice Thumb Butte, Granite Mountain and the Bradshaws staring back at you on the horizon.
Binoculars anyone?
This is where one of the Courier's "Best Seats in the House" for mountain bikers - heck, anyone who's on the trail, for that matter - should pause at least momentarily and feel the tap of Mother Nature on your shoulder.
"It's worth stopping and looking at the views, and not just hammering up," Sewell said of the trail.
Initially, you may hear the traffic noise on Senator Highway in the distance, but it starts to fade away as you continue traversing the ridge.
The wind whispers, the birds sing and the occasional lizard may make a brief appearance on this trail that every so often reveals the faint markings of humans (bike tire treads) and horses (droppings) who've passed through on their way to the crest of the hill and even closer, more stunning views of Thumb Butte and Granite Mountain.
There's some exposure as you approach the top of the hill, but you can see Prescott landmarks off in the distance to the north as well as portions of Highway 69.
Eventually you'll notice a clear view of the Granite Dells and Willow Lake as you come around the bend that takes you over the hill toward east Prescott.
"The only drawback right now with this trail is it connects only to pretty technical stuff (rides) about five miles in," Sewell said. "Everything beyond that is pretty technical right now. It won't be, because the new part of the Circle Trail they're building along Badger Mountain right now is going to connect over to Turley, and there's going to be a reroute above the existing Boy Scout Trail, eventually, that is more 'everybody friendly.' "
For the Ranch Trail ride, Winkelman, 42, rode his Salsa Bucksaw, equipped with fat mountain bike tires. They're heavier than most standard tires, but easily roll over any type of terrain, whether it's sandy, hard-pack or rocky.
"I ride that because it's a lot of fun," Winkelman said. "You don't get jostled around."
Sewell rode a full-suspension bike with smaller, narrower tires. On the new Ranch Trail, you can ride on a geared or a non-geared mountain bike, Sewell said.
"You could ride this on a fully-rigid bike, you could ride it on just a hard tail, which means there's no suspension," Sewell said. "
It's not hard to see why Winkelman wants fat tires, though. Safety is key on the Ranch Trail. There's some exposure, or steep drop-offs, to the left, and suffering a flat could be miserable.
Good bike equipment isn't the only necessity. You need to carry a water bottle and snacks.
Trail etiquette is important, too. Winkelman added that equestrians always have the right of way, followed by hikers and mountain bikers. In other words, yield to the horses and humans if you're on a bike on a non-motorized multi-use trail.
But, most of all, when you're on the new Ranch Trail, enjoy an outdoor workout - and those panoramic views.
***
For a map of the Prescott Circle Trail and its mountain biking trails, you can pick up a city trails map at most local outdoors shops or online.
Follow Doug Cook on Twitter @dougout_dc. Reach him at 928-445-3333 ext. 2039, or 928-642-7865.