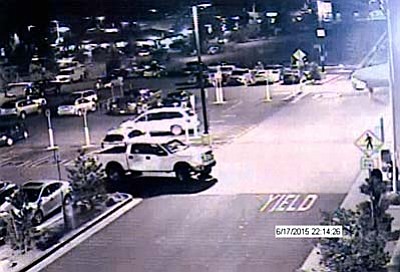 Originally Published: June 18, 2015 8:09 p.m.
PRESCOTT - Police are looking for a man who robbed the Wal-Mart store in the 1200 block of Gail Gardner Way Wednesday night, June 17, a police spokeswoman said.
The man came into the store at about 10:05 p.m., and went up to the customer service counter, Lt. Amy Bonney said, and after a brief conversation, grabbed a bank deposit bag out of the hands of an employee.
He ran from the store, toward the Denny's restaurant and the area of Gail Gardner and Iron Springs Road, she said.
The suspect did not display a weapon during the robbery, Bonney said.
He's described as a white man, in his early 20s, about 6-foot-3, thin, and with dark hair, she said.
At the time he was in the store, he wore a baseball cap with a white logo, a dark-colored long-sleeved T-shirt, shorts, and white shoes.
He may also have had tattoos on his legs and hands.
Police believe he may have been dropped off by a white, newer model quad-cab Ford F-150 pickup truck with a lift, driven by a woman with blonde hair.
Police are seeking information from anyone who may have seen the suspect, the female or the truck in the area prior to or after the robbery. Anyone with information is encouraged to contact the Prescott Police Department or make an anonymous call to Yavapai Silent Witness at 1-800-932-3232.