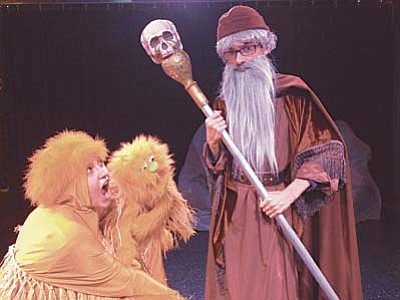 Originally Published: July 30, 2015 6:06 a.m.
There's a tempest coming to Prescott, or actually the Shakespearean play "The Tempest," performed by 16 Prescott area students. Crashing into the Prescott Center for the Arts' Stage Too, Friday, July 31-Saturday, Aug. 1, the students, ages 9-18, perform a family-friendly version of the play as the finale for the The@trics Theatre's Shakespeare Workshop.
Run by UCLA-trained husband and wife team, Cason Murphy and Tiffany Antone, the workshop is a follow up to their first workshop in 2013.
"We keep taking the chance to work on Shakespeare with the kids here in Prescott," Murphy said. "And every time, our students meet us primed and ready, and ultimately succeed beyond our wildest expectations."
Antone said the workshop has seen a lot of repeat students plus many new performers whom she said were "lured in" by Shakespeare's play, written around 1611. The plot sees a shipwrecked king and his party tempted by spirits, teased by sprites and tormented by a monster while facing the wrath of a conjurer they betrayed on an enchanted island years ago.
Murphy said one of the performers said the play was like "Lord of the Rings" told from the perspective of Gandalf.
The script was made family-friendly by Antone who said, "Prospero talks a lot. But I think we've done a nice job of spreading the focus around and making sure each student has an important part to play."
Having spent 75 hours rehearsing as well as studying Shakespeare and experimenting with theatrical forms, Murphy and Antone depart from the traditional Shakespearean style of performance and instead use a wide range of performance training methods. And Murphy said the students are creating a performance that will delight everyone from the scholar to those who have never before experienced Shakespeare.
The show will present the talents of every actor, from dancing to singing and from juggling to mandolin playing.
"When the students find a way in, to make Shakespeare personal," Antone said, "that's the magic right there."
Stage Too is located behind the Prescott Center for the Arts in the alley between East Willis Street and Sheldon Street. Running 70 minutes, the show is suitable for all ages.
Tickets are $10 for adults and $7 for students and are available online at www.theatricstheatre.org as well as at the door half an hour prior to each show.
Showtime is at 7 p.m. Friday, July 31 and 2:30 p.m. and 7 p.m. Saturday, Aug. 1
Follow reporter Jason Wheeler on Twitter @PrescottWheels. Reach him at 928-445-3333 ext. 2037 or at 928-642-5277
More like this story