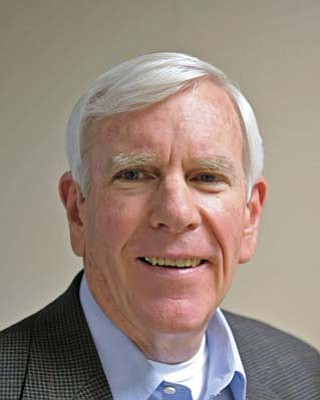 Originally Published: July 11, 2015 6:20 a.m.
PRESCOTT - After leaving Prescott as a teenager, Harry Oberg says he never intended to return.
And in fact, he got far from his roots while serving with the U.S. Army, the National Guard, and the Department of Army civilian staff. Vietnam, Laos, Germany, England, Nevada, Alaska, Illinois, and Washington, D.C. - they were all on Oberg's work itinerary during his 33-year military career.
But when he and his wife Jeanna were looking for a spot to retire in 2007, they opted to return to the community in which Oberg had grown up and graduated from high school.
"When you've been around and seen a lot of places, you realize how great this place is," Oberg said.
By about 2010, he said he was looking for ways to get involved in the community, and began watching City of Prescott business. Ultimately, he said, "I finally decided I'd go ahead and run for City Council." In early 2015, he filed the necessary paperwork to run for one of three seats open on the City Council.
But, Oberg said, those plans changed after he met with current Mayor Marlin Kuykendall. "I went in to talk to the mayor and said I'd be happy to see him have another term," Oberg said, "and he said he was tired, and asked if I would run for mayor."
That prompted Oberg to withdraw his City Council paperwork, and file for mayor instead. It also led to a statement from Kuykendall, voicing his support for Oberg as mayor.
That, in turn, has generated a number of online comments and questions about Oberg's stance on issues, and whether they would mirror Kuykendall's.
Although Oberg maintains that Kuykendall "has done a lot of good for the community," he said he does not necessarily share all of the mayor's views.
For instance, Oberg differs from Kuykendall on the need for the proposed 0.55-percent sales tax to cover Prescott's unfunded liabilities with the Public Safety Personnel Retirement System (PSPRS).
He would rather see Prescott wait in finding a funding source until after the Arizona State Legislature deals with pension reform. That way, he said, the pressure will stay on the state to get something done.
"We do have a bill we have to pay," he said of the unfunded pension obligations. "But I think the problem I see right now is that maybe (the city sales tax) is premature. I think reform could reduce our liability."
(City officials have maintained, however, that regardless of what happens with the state's pension reform, Prescott will still owe its approximately $72 million in unfunded liabilities; reform would not remove the debt, they say).
Despite the differences, though, Oberg said, "I think (Kuykendall) asked me to run because he felt I would do the best for the community."
Of Kuykendall, he said, "If you've got somebody who's done a lot of good for Prescott, that's not a bad thing. That's my interest too - trying to keep our quality of life, keep our small-town feel, but at the same time, trying to get economic development here."
Indeed, economic development is Oberg's number-one priority, and he said that effort should start with the Prescott Airport.
"I think the airport has a lot of potential," Oberg said. "It is what I would call a diamond in the rough. I would like to see improved air service." In addition, he said, the city should work to bring "other light, clean industry," such as call centers, to the airport area.
"Just like myself, and I think a lot of kids today, have to leave here," Oberg said. "We have basically a service industry, and those are not high-paying jobs. A lot of kids don't see a lot of advancement here."
Oberg left the community after graduating from Prescott High School in 1965. He was drafted into the military in 1966/67 while attending Arizona State College (now Northern Arizona University) in Flagstaff, and served two tours as an Army helicopter pilot in Vietnam.
Nine months into his first tour, he was wounded, and spent several months convalescing, before returning for another yearlong tour in Vietnam, flying "heavy lift" missions, carrying heavy equipment and ammunition.
Oberg went on to serve on the East-West German border and flying in England, before leaving active Army duty at about the 10-year mark.
He then returned to NAU and earned a bachelor's degree in accounting. He later went on to ammunition surveillance training, and ultimately, a job with the Department of the Army, working in Army depots.
Oberg maintains that his military experience would translate well to the mayor's position. "I've run large organizations," he said, adding, "You don't get to be an officer of field grade rank without having good leadership skills, being able to deal with people, make critical decisions."
Follow Cindy Barks on Twitter @Cindy_Barks. Reach her at
928-642-0951.