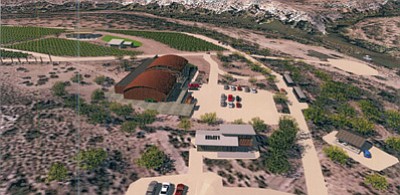 Originally Published: January 18, 2015 6 a.m.
The Alcantara Vineyard and Winery owners are ready to expand development along the Verde River after several delays during the recession.
They are seeking approval from the Yavapai County Board of Supervisors during its Tuesday meeting in Cottonwood. It starts at 9 a.m. People also can watch via video from the county administration building at 1015 Fair St. in Prescott.
The Predmore family has received several time extensions from the county to build the complex, and now it is seeking a major planned area development amendment to expand even more. The 88-acre site is located off Highway 260 between Cottonwood and Camp Verde, at the confluence of the Verde River and Oak Creek.
While the Verde Valley has become somewhat of a hub for vineyards and wine tasting rooms, most of the vineyards are located along Page Springs Road near Oak Creek. Alcantara is the only winery along Highway 260 and the Verde River.
The Predmores want to build a tasting room and event center with a 200-person capacity, 20 homes and townhomes, a 20-room inn, and a new winery. They already have about 10,000 grape vines and a winery on the property.
While much of the commercial development was first approved on 12 acres in 2004, the residential component is new.
They estimate they'll use about 64 acre-feet of water annually from wells and the neighboring Thousand Trails RV park water system. They plan to use individual septic systems as well.
The Planning and Zoning Commission recommended approval on a 5-2 vote.
Thirteen neighbors have written in opposition, citing concerns about noise and environmental impacts of all the people and parking lots along the bend in the river. One neighbor said bald eagles and otters no longer hang out in the area.
Letters of support have come from Thousand Trails, the Cottonwood Chamber of Commerce, Steve Estes, the Friends of the Verde River Greenway, and the Verde Adventures company that offers commercial kayak rides to the winery.
Some cited Alcantara's support for regional environmental tourism efforts.
Other items on Monday's Board of Supervisors agenda include:
• Discussion about the state legislative session that got underway Jan. 12.
• Request for an extra $155,000 for unforeseen county courthouse renovation costs.
• Request for $43,000 for new HVAC units at the Camp Verde jail.
Follow Joanna Dodder on Twitter @joannadodder
More like this story