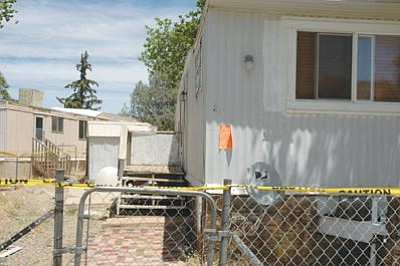 Originally Published: January 7, 2015 6:02 a.m.
Mercury found at Mobile Home Park
Last year, a gold prospector who moved out of a trailer in the Mayer Chimney Ranch Mobile Home Park left something significant behind: a mercury dump beneath the stairs.
A tenant found the toxic substance after her dog began digging in the area.
Arizona Department of Water Quality spokesman Mark Shaffer said that the agency's emergency response unit went to the site and placed the visible mercury in containers.
He added that officials would continue working with state and local health and law enforcement officials to figure out what to do next.
Shaffer said that the mobile home park owner hired a consultant who tested three sites, and only the primary site registered above Arizona Residential Soil Remediation Levels for mercury.
Mayer Water District Manager Casey Boone said that he's waiting for ADEQ representatives to follow up with a plan for the contamination clean-up.
Boone said his staff began testing for mercury contamination within the district's two wells in the park, and an independent contractor delivers the water samples to Phoenix. The district currently tests for E. coli as well, at a cost of $83 dollars per sample and around $70 per sample for the mercury testing.
"For the past 25 years we've had ongoing issues with compliance at the mobile home park," Boone said.
The district hosts monthly public meetings to disclose issues with the water, in addition to delivering door-to-door consumer confidence reports on the safety of the town's water.
Park owner Brian Menold currently faces a lawsuit filed by 17 current and former residents.
Fire district moves forward to pay pipeline settlement
Mayer Fire District board members agreed late last year to approve an intergovernmental agreement with Yavapai County that would allow the district to make payments on the Transwestern Pipeline settlement refund.
The board approved an agreement with Yavapai County regarding the refund, after Transwestern filed a lawsuit claiming that its property had been overvalued by the ADOR. The county jurisdictions' payback amount equates to just over $2 million.
The fire district's payback amount is $42,234.14.
The pipeline runs through the Mayer district and parts of northern Arizona through Yavapai County.
Shell station gets Tesla charging units
Cordes Lakes joined the ranks of the Supercharger network system and added a Tesla battery charging system to its Shell station last year.
Howard Magee, general manager for Shell/Carioca Company, said that the Shell station in Cordes should be up and running.
"For a person who drives a Tesla, it's free," he explained. Anyone driving a Chevy Volt or other type of electrical vehicle will not be able to use the Tesla charger at this time, as they are specific for Tesla owners.
However, some stations feature a charging outlet for those consumers with adapters. The Phoenix metro area, for example, has about 20 such stations, Magee said.
A Tesla owner can drive from San Diego to Seattle or Los Angeles to Phoenix and find charging stations along the way, Magee said. Tesla plans to have charging stations along all major routes within the U.S. The stations are strategically placed to allow owners to drive from station to station with minimal stops.
The range of a Tesla, after a full charge, is around 300 miles. A Chevy Volt hits around 60 to 80 miles in between charges, Magee explained.
The good news for the Shell station in Cordes Lakes: It takes between 20 minutes to a half-hour for a Tesla to completely charge, and this break may allow for more business within the station as far as shopping, eating and recharging the human battery.