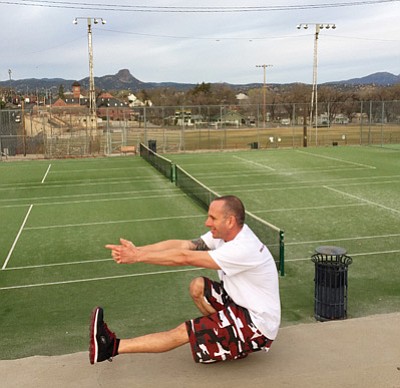 Originally Published: February 22, 2015 6:10 a.m.
After a long time in the military, most would probably like to sit down, rest easy and find a desk job.
Not Steve Rosen, also known as Sgt. Steve of Prescott Adventure Boot Camp for Women. After spending 20 years in the army, working as a personal trainer on the side, Rosen moved to Prescott and started training groups. Currently, he leads the Prescott Adventure Boot Camp for Women, which is going through a re-branding to the Kickstart Boot Camp for Women.
Rosen holds 17 health, fitness and nutrition certifications and specializations, including one as a Personal Fitness Trainer, Yoga Instructor and Fitness Nutrition Coach. Rosen also has certifications by the National Exercise & Sports Trainers Association as an Adventure Boot Camp instructor, and as a Health and Wellness Coach through Real Balance Global Wellness. However, is main specialization is body weight training and kettle bells. He's the only trainer in Northern Arizona who is body weight certified.
He has also authored a book called "Operation Motivation - The Ultimate Guide to Crush your Fitness Excuses."
Following an intensive workout session for the Boot Camp, Rosen talked with the Daily Courier about the Boot Camp, his future plans and a little bit of fitness.
Daily Courier: I noticed that you were in the army for 20 years?
Sgt. Steve Rosen: Yes.
DC: What brought you back to Prescott or were you in Prescott before you went into the army?
SR: My last assignment in the army, I was attached to the National Science Center and they had a partnership with the U.S. Army where we had an 18-wheeler and we traveled around the country doing science demonstrations for kids in ... fourth through ninth grade and we bring these trucks to these schools and it would expand in the back and it would become a mobile classroom. The kids would come in, we would do, we'd bend glass with sound waves, we would do optical illusions and things like that to show them how their eyes worked, we would show them how electricity works with AC and DC and things like that, we had a Tesla coil. And on a five-month nonstop cross-country trip, we came to Prescott for 24 hours. We did one school here and I looked around and fell in love and said 'this is where I want to come when I retire.'
DC: When you got here, how long was it before you started up the boot camp?
SR: I moved here in May of 2013. I did a test camp with a small group of ladies in August to kind of get a feel for going from being a personal trainer one-on-one to a group instructor with a group of ladies. So before I launched the camp officially, I wanted to get a feel for what's it like to have a group dynamic. And then my very first camp started September 9, so just about 90 days after arrival.
DC: Personal training one-on-one, you did that before the army?
SR: I was doing that in the army on the side. So, I got certified as a persona trainer and I was working with clients and doing that and also doing wellness coaching with clients.
DC: The Boot Camp's being going on for how long?
SR: About a year and a half, we'll hit our two-year anniversary in September.
DC: Are you going to do anything special for that anniversary?
SR: Don't know yet. When it arrives, it arrives. Who knows? When we hit year one, we didn't really do anything big, it was just kind of a 'cool, we've been here for a year." But who knows? The camp
The camp continues to grow and its influence continues to expand.
DC: And how did the name Prescott Adventure come about?
SR: The current business is the Prescott Adventure Boot Camp for Women, which is a business license I purchased which came with the branding and the training. It's how I learned how to actually run a fitness boot camp. There's actually about 300 of them worldwide. And I chose that because many of my friends had been Adventure Boot Camp owners across the country and I wanted to do something that was a proven system that worked. And after a year and a half, I decided to expand my business in new areas and in doing so, I won't be able to do that as Adventure Boot Camp, so I decided to completely rebrand everything under one new umbrella, which is now the Kickstart Boot Camp.
DC: Why the name Kickstart?
SR: It really fits, I think, what people are looking for, is that kickstart: that initial blast of motivation and good quality fitness training and nutritional guidance and everything into a really good package that people can get everything. Because sometimes, people will try to work out, they won't know the nutrition aspect or they'll try do to the nutrition aspect, but won't know how to work out. This combines everything with helping them work on even getting better sleep and all the components of wellness come together. And it's a kickstart, it helps people really get moving forward into lasting change. Not just a diet or an exercise program, but a lifestyle change towards being more fit and healthy, so it's a kickstart into that.
DC: How do working out and nutrition mix together to form the perfect fitness?
SR: It works out really well because whenever you're exercising, you're building lean, healthy muscle, you're burning calories and you're getting the blood flowing, you're moving the joints, it just does good things to the body. And to help you recover and to feel your best and to perform your best you want to put quality food in. The way we started out, we don't even tell people what to cut out, it's all about 'ok, here's some of the foods you should add. Add more veggies, add more nuts, add more seeds. Healthy foods.' Because when people put healthier stuff in their body, they feel better. So when they work out, they've got more energy, so they're putting more into the workouts and then after a hard workout, the last thing you want to do is go eat a candy bar so you're going to eat healthy and it creates this perpetual beneficial relationship between food and exercise. And also, you're going to want to sleep better so you have more energy and eventually you might even start wanting to relax and unwind and take better care of yourself because you don't want to be stressed out all the time. So it all works together. It's holistic.
DC: So going forward with this new name and re-branding, it's still going to be just for women?
SR: Just for women and what I'm expanding into is ... the Boot Camp is still going to be here, we're still doing the Boot Camp Monday through Friday, but what I'm also going to start adding are weekend retreats for people who are either local or down in the valley who want to come up and get a really good weekend of just kickstarting everything, nutrition seminar, motivation seminar, learning some exercises, working on creating that lifestyle and sending them home with some ongoing coaching and then towards the end of the year, I'm going to do a five day retreat where people come in from all over the place. Bring them here to beautiful Prescott, take them hiking, get them massages ... maybe even taking them to get a manicure, do all kinds of really awesome stuff with ladies and then add into that the exercise, the nutrition the stress and all that and just really help them get a really good solid foundation on fitness that'll last them and it won't be a quick fix.
DC: The name change, you're starting it now?
SR: Once the new website is live, which should be in about another week, week and a half, the full transition will happen. I'm going to have to get my vehicle rewrapped because it says Adventure Boot Camp and stuff like that. And just to make it clear, there's no issue with Adventure Boot Camp, I just wanted to have the new name, the new kickstart and it's funny because the Adventure Boot Camp color is orange and I was wearing orange camo. Well, I like the color red better so one of the reasons I re-branded to red was so I could wear red camo.
DC: Do you give your wife tips?
SR: You know, when I'm at home, I'm not a fitness trainer. I'm just my wife's husband. A lot of times, even if we mean well, as partners sometimes, advice is just not a good idea. So as a fitness trainer, my wife, she knows how to eat healthy, she knows how to exercise and that's her thing and sometimes we'll work out together, but most of the time she does her thing, I do mine. It keeps things really peaceful around the house.
DC: What are some ways people can get motivated to work out?
SR: I always start with letting people know that motivation is not a feeling. Motivation is why we do everything we do and everything we don't do. One of the biggest things is just getting over the feeling that if I only worked out when I was in the mood, I would exercise about five times a year. I don't work out because I feel like it, I work out because of how it makes me feel. And one of the things people can do in the local community is I'm going to be giving a series of Kickstart Your Motivation speeches. I do that as part of the Boot Camp, but I also I've done them through the city of Prescott ... just getting more involved in the community so when you come to my new website, which will be up in about a week, you'll be able to download my free motivation guide to help you kickstart your motivation and get the right mindset to make some positive changes.
DC: What other speeches are you going to do?
SR: Mostly right now, the Kickstart Your Motivation because there's a lot of people in the community who are already talking about nutrition and fitness and all that and I'm just really into the mindset of fitness. Now, when you do a Boot Camp, you actually get a nutrition seminar with it so you get a motivation seminar and a nutrition seminar and then with the exercise class, it just ties everything together into a little nice package.
DC: Anything else you'd like to add?
SR: Just know that PrescottBootCamp.com, the website isn't going to change, it's going to forward into my new website, so there'll be a seamless transition. The website is changing, but the domain will forward because the main site will be Kickstart for Women.