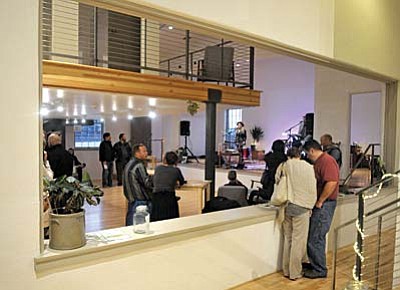 Originally Published: December 17, 2015 6 a.m.
Along Marina St. in the center of Prescott, quietly tucked between two plain commercial buildings (occupied by an Arizona Public Services (APS) and a Century Link) is what used to be a Mormon church erected in 1927.
Little can one tell from the outside that the ancient-looking stone structure is a contemporary masterpiece.
Appreciating its historic exterior, Ty Fitzmorris, owner of The Raven Café and The Peregrine Book Company, acquired the building and had Bill Otwell of Otwell Associates Architects design the interior for Fitzmorris's newest project, Milagro Arts Center.
"Bill has designed all of the buildings my businesses are housed in," Fitzmorris said.
Faithful to its motto of creativity, community and environment, Milagro is a nonprofit shared studio space that has already begun to engage the community through private events, but will soon open to the public.
"It's kind of like an analog makerspace for artists, especially artists who need a lot in the way of facilities," Fitzmorris said.
Within the three-story building is space designated for different crafts, such as ceramics, photography, printing and digital media.
Additionally, there is an artist-in-residence studio, a sound studio and a community gathering space with a stage for live performances.
One of the primary missions behind the center is to fill a niche within Prescott by attracting outside creative minds.
"We are trying to connect the community by creating this community space, but then also bring in the outside community to Prescott and sort of mingle a bit and get inspired by each other," Executive Director Kristen Densmore said.
Fitzmorris and Densmore began truly digging into this project about three years ago and have since received about $100,000 worth of in-kind donations consisting mostly of equipment for the different studios and about 1,500 volunteer hours from community members who have assisted in making the center a reality.
Much of the equipment needed to operate has already been acquired and set up, but there is quite a bit more that Densmore and Fitzmorris hope to bring in.
To cover that remaining funding gap, they've turned to crowdfunding and just launched a Kickstarter campaign Wednesday, Dec. 16. The campaign will run until January 30.
The center is asking for $30,000 on the Kickstarter, but that's only a taste of what they're actually aiming for.
"We have some stretch goals too," Densmore said. "We can get more equipment with $50,000 and even more with $100,000."
By setting the funding goal on Kickstarter at $30,000 but asking the public to invest as much as possible, it provides a safeguard of sorts.
For those who are unfamiliar, when a goal is reached or surpassed on Kickstarter, the recipients of the funds pay a small percentage of the total amount raised to Kickstarter and get to keep the rest.
If a goal is not reached, then nobody gets any money. Therefore, by setting the goal lower than what is actually needed, it provides a better chance that at least the goal will be met and some money will be taken in, and then any additional money that flows past the goal is guaranteed funds as well.
This is just one of the many strategies associated with managing a successful Kickstarter campaign.
"The traditional fundraising world says that you look for major donors using a particular tool kit and you do it in December," Fitzmorris said. "Kickstarter doesn't care about that; it really doesn't care at all. It's crowd funding; so it's people throwing $5 or $10 into it."
Once open in early April, the public will be allowed to tour the facility and artists will be able to sign up for yearly, monthly or daily memberships.
To find out more about Milagro Arts Center, go to http://milagroarts.org/. On the site is a recent post that tells you how to reach the online Kickstarter campaign if you wish to take a look at it and/or contribute. There is a video on the Kickstarter page that tells the story behind Milagro visually.
Follow Max Efrein on Twitter @mefrein. Reach him at 928-445-3333 ext. 1105, or 928-642-7864.