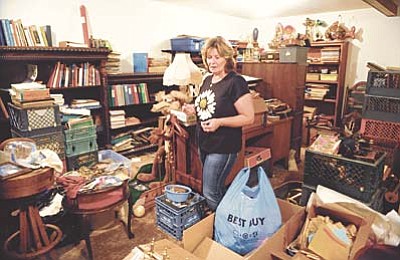 Originally Published: August 29, 2015 6 a.m.
On Wednesday, April 8, Prescott resident Colleen Carr was visited by a special guest. Well, actually, a bunch of special guests.
"Their crew came in a huge motorhome that my neighbor let them park across the street," Carr said.
It was the crew of American Pickers, the popular reality television show that airs on the History Channel.
On the show's most recent tour of the country, Carr's home was the only stop the stars Mike Wolfe and Frank Fritz made in Arizona.
After months of anticipation, Colleen was able to watch the product of that visit when the episode featuring her newly acquired treasure trove aired on Wednesday, Aug. 19.
Following the death of her uncle, Victor Buck, in December, she inherited his home and his extensive collection of antique goods.
Buck was a successful entrepreneur who owned a metal plating shop in California, was an antique dealer and rubbed elbows with a lot of Hollywood actors.
"He was kind of like the rich uncle we saw on occasion," Carr said.
Carr says he also had a bit of an unhealthy obsession.
"He was a hoarder of collectibles things," Carr said. "He had a collection of everything."
This pitch and a series of photos showing the countless stacks of aged items cluttering the home and covering the property was enough to convince representatives of American Pickers to scout the location.
"Their eyes just got bigger and bigger as I showed them everything," Carr said.
The representatives travelled back to New York-where the show is based-and voted amongst themselves to determine which location in Arizona Wolfe and Fritz would visit on their way through, said Carr.
Right as Carr began to think she was simply a runner-up in the selection process, a woman called her and said she had been picked.
"She said they'd be coming in like two weeks," Carr said.
So Carr rushed her plans and moved into the home only about a week before the American Pickers arrived, not giving her much time to sort through what she considers to be simply too much stuff for one person.
"It's overwhelming," Carr said.
The show's crew arrived around 9 a.m. and didn't leave until 9:30 p.m.
Fritz and Wolfe didn't stay the entire time, but for the time they were there, Carr said they were very nice.
"They were just like they seem on the show," Carr said.
Carr says they bought about $2,100 worth of stuff from her and were very fair about their pricing.
"When they didn't know what something was worth, they'd have their crew look it up so they could give me a good price for it," Carr said.
A lot of the items the duo picked from Carr were small trinkets, but the major items that Wolfe in particular found of interest were remnants of the late Iron Eyes Cody, a well-known Hollywood actor who played Native American roles during the golden age of western films (from about the 1940s to the 1960s).
Turns out, Uncle Buck was the manager and estate executor for Iron Eyes Cody (birth name Espera Oscar de Corti) and received a lot of the actor's belongings when he died in 1999.
Wolfe ended up buying a personal photo album that tracked the life of Iron Eyes Cody for $1,000 and a Tepee used by Iron Eyes Cody for $800.
It went well for Carr, but she wishes they bought more.
"I would have loved a bundled deal where they took the whole thing," Carr said. "Just so I could have some more room."
To watch the episode, go to http://www.history.com/shows/american-pickers/episodes and sign in to the website with your TV provider. If you don't have a television, the show can also be seen on Youtube.com. The name of the episode is Law and Hoarder. Carr is featured in the second half of the episode.
Follow Max Efrein on Twitter @mefrein. Reach him at 928-445-3333 ext. 1105, or 928-642-7864.