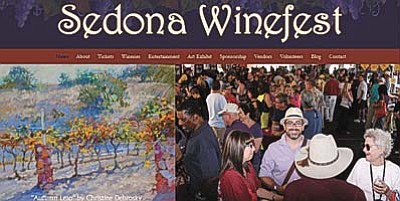 Originally Published: August 27, 2015 8:17 p.m.
The seventh annual Sedona Winefest will be held from 11 a.m. to 5 p.m. Saturday and Sunday, Sept. 26 and 27, at the Sedona "Historic" Posse Grounds Park in West Sedona. This year the event will be held in an all-weather "circus-sized" tent for all attendees to enjoy a community-like setting.
The Winefest is designed to introduce to wine lovers a variety of fine wines from Arizona wineries, many from Northern Arizona including the Verde Valley. The event also includes cuisine from local restaurants, music by local musicians, a variety of wine-oriented vendors, an art exhibition by plein-aire artists, and wine education seminars.
General admission tickets are available online at SedonaWinefest.com at the early online price of $25 and at the door for $30. General admission includes an etched commemorative glass and eight tasting tickets. Additional wine tasting tickets are also available. Online sales end at 5 p.m. on Sept. 25.
Sedona Winefest has become a two-day signature event and fall tradition in Sedona, celebrating the burgeoning Arizona wine industry, and has grown from attendance of 700 in 2009 to more than 2,500 guests in 2014.  "The wine industry in Arizona has not only matured to produce award-winning wines, but has experienced robust growth in recent years, to the delight and benefit of many," said Sandy Moriarty, president of Sedona Fair Inc., the non-profit organization producing the event. 
The Sedona Winefest has been moved from its traditional location, Sedona Airport, to the Sedona Posse Grounds Park. This represents a major change in the event's profile, turning it into a high-profile Sedona event in the heart of the town. Posse Grounds history includes the famous Sedona Rodeo of the '50s and '60s and the beginning of the Jazz on the Rocks festival.
This year the wine fest will host more than 20 wineries from all parts of Arizona that will be showcasing their latest wines. In addition to tastes, attendees will purchase their favorites by the glass, bottle or case.  The new venue, Posse Grounds Park, will give wine lovers the opportunity to sip wine and listen to music while enjoying vast expanses of the grass lawn of the park.
The Sedona Arts Center will be present at the Sedona Winefest too with a variety of "plein aire" art on display as well as demonstrations of "plein aire" water color and oil painting. Red Earth Theater, which is also located at Posse Grounds Park, will be performing a "wine-themed" play on Friday and Saturday evenings, Sept. 25 and 26. Tickets for their play are on sale at RedEarthTheatre.org.
The Winefest features a lineup of delicious and inviting foods from local restaurants to complement the wines. Throughout the tasting area, there will also be displays of goods and services from vendors ranging from corkscrews to glass art made from old wine bottles. There will also be an opportunity to win a wide variety of prizes in an hourly raffle.
The Sedona Winefest weekend is designed for both experienced and aspiring wine connoisseurs, with wine education presentations by experts in the industry, including topics from how wine is made to comparing wine regions and why grapes grown in Arizona produce high quality wines. These seminars are offered at no additional cost.
Attendees are invited to spend the whole weekend in Sedona and stay at Sedona hotels, resorts or bed and breakfast lodgings. Visit Sedona's Chamber website, VisitSedona.com for information on lodging in Sedona.
Sedona Winefest is made possible by the event's presenting sponsor, Sedona Pines Resort. Other sponsors are the city of Sedona, Sedona Chamber of Commerce, Verve Events & Tents, and media sponsors.
For more information on the Sedona Winefest, including updated information on entertainment, wine seminars, etc. visit: SedonaWinefest.com Tickets are sold online at a discounted price.