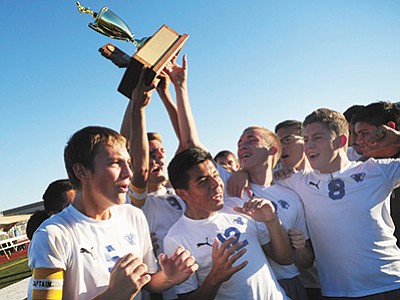 Originally Published: August 26, 2015 6 a.m.
Last year the goal of the Chino Valley High boys' soccer team was to repeat its 2013 state championship.
This season it's "three-peat."
The Cougars capped their near-flawless 2014 campaign with a 4-0 victory over arch-rival Blue Ridge to win their second consecutive state title and the fourth for Jim Clark, who was named Division 4 coach-of-the-year for the third straight season. Blue Ridge, winner of four consecutive state titles (2009-2012), was the only team to defeat Chino Valley last season, snapping the Cougars' 27-game unbeaten streak.
"Everybody's expectations are so high," says Clark, who also led Chino Valley to state titles in 2000 and 2008. "Ours are high, too. How we play this season really depends on our seniors. Their attitude will determine what this team will be and how we integrate new players. We have lots of talent. There are players on the JV team who were on the varsity last season. Our team speed is as good as last year."
The good news for opponents aiming to derail the Cougars is that Geovani Vedolla, the Division 4 player-of-the-year in 2014 when he scored 33 goals, is now playing at Glendale-Gilbert Community College. (He'll be in Prescott Valley on Sept. 22 when the Coyotes face Yavapai College.)
All-Division 4 midfielder Oscar Montes, who scored 18 goals in 2014, is also gone. (Note: All 25 teams playing soccer in the fall are in the same division.)
The bad news for the opponents Chino Valley defeated last year (21-1-1) is that first team All-Division 4 forward Arturo Gomez returns - he scored 28 goals in 2014 - along with second-team All-Division 4 midfielder Tyran Payne, who tallied 11 scores, including a pair in the state quarterfinal playoffs against Phoenix Country Day. Gomez, a junior, scored twice in the first half of the state championship game.
"Arturo is our man this year," Clark says. "He makes great runs and is a strong finisher. He's very smart. He sees the game well. Tyran is really quick. He came on strong for us in the playoffs."
Only one of the key players in Chino Valley's stingy defense (10 goals allowed in 2014) has graduated - All-Division 4 defender Travis Rowitsch. That means in order to beat the Cougars, opponents must find a way to kick the ball past two-time first team All-Division 4 goalkeeper Spencer Coffin. He recorded 12 shutouts in 2014, including six in a row during the regular season and three straight in the playoffs when Chino Valley outscored Phoenix Country Day, Desert Christian, and Blue Ridge by a combined score of 13-0.
"Spencer is much-improved over last year," Clark says. "He's more aggressive. He's coming off the line much better and more confident in one-on-one situations. Spencer is quick as lightning. He makes unbelievable saves."
First team All-Division 4 outside back Fabian Gomez, second team All-Division 4 sweeper Garret King, and junior stopper Edgar Sanchez once again anchor the Cougars' defense in front of Coffin. Speedy sophomore defender Jairo Herrera will be an offensive threat coming out of the backfield. He scored five goals as a freshman, including one in the semifinal playoff game against Desert Christian.
Senior Brian Skinner, who played football in 2014, should contribute as an outside back and second-string keeper behind Coffin. Clark is anticipating the return of injured senior defender Miguel Estrella in two weeks.
Gomez and King are captains along with senior midfielder Kendall Foster, who was honorable mention All-Division 4 last fall when he scored six goals and assisted on 10 others. The son of Cougars girls' soccer and wrestling coach Allen Foster, Kendall finished fourth in the Division 3 state tournament at 120 pounds this past winter.
"Kendall is a catalyst for the team," Clark says. "He makes things happen. He's stronger and finishing much better. We expect him to score more. He has great balance, which he gets from his wrestling."
Junior Walter Soto, a defender last year, will move to defensive midfielder. "It's a family tradition," Clark says. "His brother Antonio played the same spot two years ago."
Chino Valley has been successful through the years because of its tradition of younger players learning from those ahead of them. The Cougars have excellent balance again this season with seven seniors, five juniors, six sophomores, and one freshman, Jordan Sanchez, who will start up front with Gomez.
"Jordan is a talent," Clark says. "He's very fast, a great finisher, and a team player. He's strong with both feet and in the air. Jordan is very dedicated to the game and will improve with experience. I think he'll be a different player after four games from now."
Sophomore Matthew Rios-Gateway and junior Ben Carrizoza are battling for the starting outside midfield spot. Junior Cesar Miguel, a backup forward, will get playing time along with sophomore defender Hunter DelRio. Three sophomores gaining experience are Kaleb Chacone (MF), Elijah Desmond (F) and Ty Richmond (D).
"[Our success] will depend on how we play together," Clark says. "We're smart enough to know teams aren't going to roll over for us. We've got a target on us. We have to play to our potential each time out."