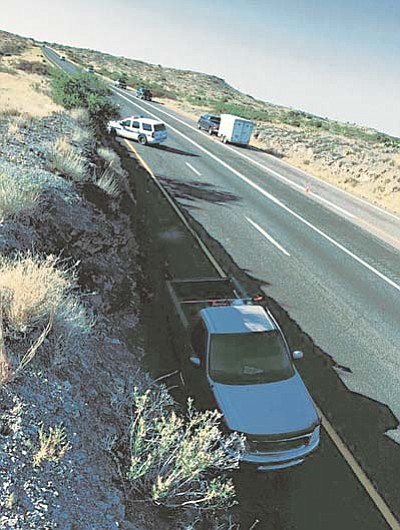 Originally Published: August 23, 2015 12:43 a.m.
Arizona Department of Public Safety trooper and Mayer Unified School District Board Member, Jeremy Barr stopped a wrong-way driver on I-17 Saturday morning, Aug. 22 by colliding head on with the wrong-way vehicle.
Frank Milstead, director of the Arizona Department of Public Safety, said the department started receiving calls at 5:45 a.m. about a pickup truck traveling northbound in the southbound lanes of the highway. He said the truck had been traveling approximately 70 mph for about 12 miles before DPS could make contact with the driver through vehicle intervention.
Milstead said Barr was in the area when the calls came out, noting he has been a DPS trooper for 12 years.
"He's a seasoned veteran of the department," Milstead said. "He's been involved in five other interdictions of wrong-way drivers during his career."
According to Milstead, Barr started a traffic break in order to slow down the closing speed between the wrong-way driver and the other drivers on the roadway. However, Milstead said Barr had to make a decision where to stop as Barr knew that he could only go so far and stop so many cars while still having time to get people slowed down.
Milstead said Barr came through a blind curve with a bit of a downturn and saw the pickup truck coming toward him, still traveling the same speed.
"As the truck attempted to pass him, as he's there with red lights and siren on," Milstead said. "He literally turns in front of the vehicle and stops it by pushing it into a rock ledge on the high speed side of the lane."
Milstead mentioned there was significant damage to the driver's side of the truck all the way down the side of it as well as the same type of damage to Barr's vehicle.
Barr was taken to a local hospital where he was held overnight as Milstead stated there were some apparent significant injuries to his back. However, Milstead said Barr's timing with the collision was amazing in that no one received any more serious injuries.
Milstead called Barr's actions "probably one of the most heroic things that I've seen," in his 31 years of law enforcement and said such methods are "extraordinary."
"I don't think that I would advise this is a good piece of intervention," Milstead said. "But he knew that if he didn't do something, this was going to end in another fatality."
And while Barr's methods of stopping the truck were uncommon, in his five interdictions with wrong way drivers, he has attempted head on collisions twice before. In September 2013, Big Bug News reported that Barr swerved to stop a wrong-way driver on May 25, 2013, clipping her mirrors and forced another wrong-way driver into the median on Sept. 2, 2013.
Milstead spoke of Barr's wife and two children and said they are proud of Barr's actions.
"Because had he not done this, there's no doubt in my mind that somebody's wife, somebody's brother, somebody's sister would have been killed by this wrong-way driver," Milstead said. "He unequivocally saved lives today."
The driver of the truck was impaired and will be processed and charged with a DUI along with several counts of aggravated assault, stated Milstead, who encouraged those who encountered and were able to avoid the truck to contact the Department of Public Safety. He also stressed reporting dangerous drivers and not letting friends or family drive drunk or on drugs.
Follow reporter Jason Wheeler on Twitter @PrescottWheels. Reach him at 928-445-3333 ext. 2037 or at 928-642-5277.
More like this story