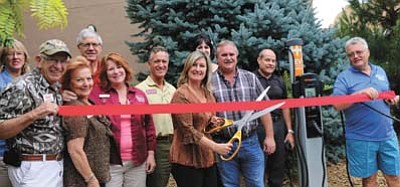 Originally Published: August 7, 2015 6 a.m.
The first publicly accessible electric vehicle (EV) charging station in Prescott is now available in the parking lot of SpringHill Suites by Marriott, 200 E. Sheldon in downtown Prescott. The unveiling and ribbon cutting ceremony took place on Thursday, July 30.
The ChargePoint charging station is a dual port system and will be capable of charging two vehicles simultaneously. In addition, a Tesla charging station was also installed. Similar to Apple, Tesla requires its own adapters and chargers for its products.
"I did some research and I found out fairly quickly that there wasn't any capability of charging an electric vehicle in Prescott or anywhere near," said Margo Christensen, vice president of marketing and public relations for SpringHill Suites.
Christensen is correct, according to Plugshare.com, an online EV charging station mapping resource. The next nearest publicly accessible charging stations are in Cordes Junction and Cottonwood.
"The charging stations will make Prescott a more desirable tourist destination for electric car owners," Prescott Mayor Marlin Kuykendall said. "Providing electric charging stations is another opportunity for the private sector to invest in and improve the local economy."
About a dozen businesses in Yavapai County offer public access to designated areas where EVs can plug in, but most consist of specialty wall outlets that only put out the standard resident electricity service rate of either 110 volts or 120 volts. Official EV charging stations put out at least double that voltage. The ChargePoint station at SpringHill Suites puts out 240V.
A 2015 Nissan Leaf takes 21 hours to charge at 110V and only four hours to charge at 220V, according to Nissan's website. The Leaf can go about 84 miles before having to be charged up.
Similar figures apply for the 2015 BMW i3, which has an 80 mile range, takes 10 hours to charge at 110V and three hours to charge at 220V.
These times and mileages range drastically depending on the make and model. A 2015 Telsa Model S, for example, can take up to 81 hours to charge at 110V and 10 to 12 hours at 220V, but can go without charging for as much as 253 miles.
Some Tesla charging stations are called Supercharger stations. These stations can fill up a Model S in a matter of minutes rather than hours because they deliver up to 120 kilowatts of direct current (DC) power directly to the battery, instead of the typical process of converting alternating current (AC) from a wall charger to DC that's stored in the battery. Cordes Junction has a super charging station.
The station at SpringHill Suites (which cost the operating company Ponderosa Hotel Management Services, LLC, about $7,000 to install) will be available 24 hours a day, seven days a week for anyone to use and will be free of charge through the end of August. After that, there will be a fee of about $1.50 per hour of charging for the general public, and overnight guests at SpringHill Suites will receive free charging included with their overnight stay. The Tesla station is free no matter what.
Depending on the owner of the station, pricing for hourly use in Arizona ranges from free to about $2.
Many of the stations in Phoenix and surrounding areas are owned by Blink, a nationwide provider of EV charging services. Blink charges $1 per hour to consumers with a Blink membership and $2 to those without.
Independent businesses in other parts of the state charge according to what the market permits in their area. For example, Pines Motel in Cottonwood charges $1.25 per hour for Telsa charging and $1 per hour for all other EVs.
"That is what the company [Eaton] told us to charge," said Martha Bruening, manager at Pines Motel.
On the other hand, quite a few businesses - especially those with only a wall outlet available for use - often allow cars to hook up for free.
The SpringHill Suites location will be listed on the Chargepoint website and will also be listed on all electric vehicle navigation systems so that drivers can easily find the Prescott location. Other websites such as the Arizona Office of Tourism and Marrriott.com will be adding the Prescott location.
Follow Max Efrein on Twitter @mefrein. Reach him at 928-445-3333 ext. 1105, or 928-642-7864.
More like this story