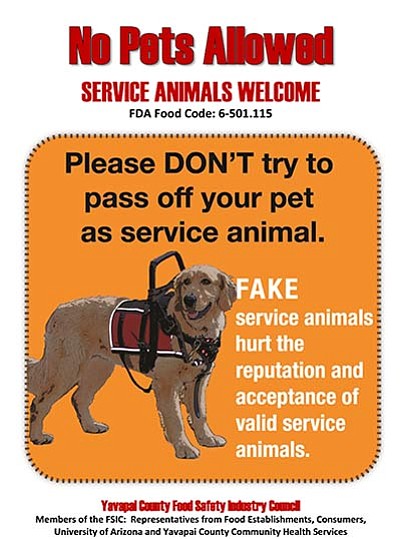 Originally Published: August 4, 2015 6 a.m.
PRESCOTT - A clearer explanation of the U.S. Department of Justice American Disabilities Act's service dog regulations is likely to make it easier for stores and restaurants to honor the needs of customers with disabilities, advocates and national store chain officials said this week.
Wal-Mart corporate spokesman Aaron Mullins said its stores have long prohibited dogs in shopping carts, except when customers make a case the dog must be close to them for their safety. With the ADA's rules now specifically interpreted such that stores are not required to allow service animals in shopping carts, Mullins said the managers and staff can better enforce rules intended to benefit all of their clientele.
Natural Grocers corporate spokesman Jeremy Jones said all of its stores are ADA complaint, and so customers with service animals are welcome. As for customer abuses of the law, Jones said he has no knowledge of any particular local store problems.
In Prescott, some store and restaurant owners, as well as the Yavapai County Health Department, recently stated they regularly receive complaints about possible ADA regulation abuses. Most often the complaints related to whether someone has a legitimate service dog, one able to perform specific tasks as required by the ADA for someone with a classified physical or mental health disability.
Service animals are defined by the law as dogs that perform tasks to benefit their disabled owners.
Store owners and restauranteurs cannot ask a person about their disability. They can, however, ask if the person is accompanied by a service animal and what task that dog is trained to do for them. Service animals do need to be able to obey an owner's commands, and cannot pose a threat to anyone else, according to ADA regulations.
State and local advocates for the disabled, as well as service dog owners and trainers, hailed the July update of the ADA's technical service document because it makes clear the law's intent.
Local service dog trainer Andy Lloyd, who is quite familiar with the ADA regulations and FAQ updates, said the new FAQ document offers local businesses and restaurants more leverage.
"They don't have to deal with the abuse," Lloyd said.
The Food Safety Industry Council of Yavapai County has spent the last few months researching and developing public education posters about ADA service dog rules. Two designs have so far been approved, with additional designs related to regulation updates possible in the future, officials said.
Come September, the council is expected to let area restaurants pick the designs they prefer and wish to locate outside their establishments, said Food Safety and Health Education program director Nicole Lund of the University of Arizona Cooperative Extension.
Aware of the educational effort, Lloyd said she welcomes anything that better informs the public so no one is confused about what is or is not allowed in public places. She recently conducted a seminar at the Whiskers Barkery to answer questions about the proper protocols related to service animals. Service dogs and business owners attended. From the questions, it was clear that some of the ADA regulations and criteria are still misunderstood or misinterpreted.
Lloyd said she sees this recent update as a step in the right direction. She favors additional ADA requirements related to proper service dog training.
At this time, the ADA has no specific training or licensing criteria for service dogs. In addition, Lloyd said there is sometimes confusion about service animals, emotional-support dogs and therapy dogs. Only service animals are allowed in all public establishments and on public transportation, the law states.
"I really support the rights of those who need service dogs, but that right must be used ethically," Lloyd said.
Follow Nanci Hutson on Twitter @HutsonNanci. Reach her at 928-445-3333 ext. 2041, or 928-642-6809.
More like this story