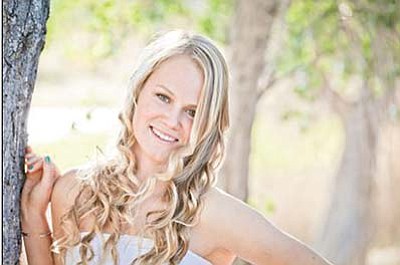 Originally Published: April 15, 2015 6 a.m.
Girl Scouts-Arizona Cactus-Pine Council announces that two Prescott girls have earned their Girl Scout Gold Award, the highest honor a Girl Scout can receive.
This prestigious award requires a girl to stretch her skills and step forward as a leader to meet a local or global need and create a sustainable change. In the process, she develops and enhances her own leadership, determination, creativity and confidence.
Emily Bowen and Emily Stolz have held their troop meetings at Liberty Traditional School since elementary school days. A portion of the school's ground was a rundown area not being used fully. Because of the girls' long history with the school, they focused their Gold Award projects on beautifying the 20' by 20' empty space on campus.
Bowen wanted to transform the space into a reading garden, so she designed a landscaping plan with vegetation native to Arizona, an irrigation system and benches. Next, she advocated for donations from local businesses. Using flyers and a listing in the local paper, she recruited 10 volunteers who helped her complete the renovation.
Stolz enhanced the newly created reading garden. Specifically, her goal was to increase the tranquility of the garden by building a natural barrier between the garden and the school parking lot. After researching which plants thrive in Arizona, Stolz recruited volunteers to plant the vegetation and install irrigation. The barrier consisted of several plants such as honeysuckle, smoke tree shrub, apple trees, Arizona cypress, and Navajo glance willow, all of which were donated by local businesses.
Today, the garden provides a beautiful setting where students and staff can read, relax and rejuvenate. One of the school's teachers has volunteered her class to maintain the garden, so it can be enjoyed for years to come.
The girls were honored at the 2015 Girl Scout Gold Award Celebration on Saturday, March 28 at the Glendale Civic Center
More like this story