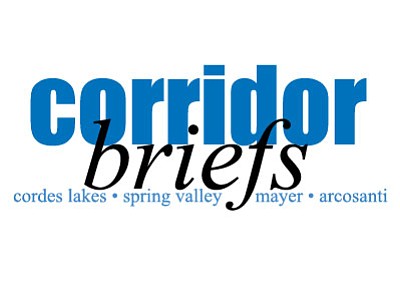 Originally Published: September 24, 2014 6:03 a.m.
SPECIAL EVENTS
The Youth Group has renamed themselves United Teens and they are holding a Basketball Tournament on Oct. 18, boys versus girls at Mayer High School Basketball Court starting at 1 p.m. Hot dogs, nachos, water, juice and soda will be sold. This is open to pre-teens and teens. Contact Tom McConnell at 928-853-1973 to sign up to play in the event or to join United Teens.
Oct. 4 is the next date for High Desert Heritage Museum to hold their flea market at 19600 East Stagecoach. To purchase table space ($15 per table), contact them at 928-632-4633.
Arcosanti will feature Human Nature Dance Theater on Oct. 4. Weatherwild tells the store of emotional engagement with climate chaos. It is $40 for the dinner and performance.
WORKSHOPS at Arcosanti - about Arcosanti and arcology. There are one- two- and five-week options where you can discover what it's like to be part of a project. Dates are Oct. 5, Nov. 9.
The Harvest Dinner will be held by Meals on Wheels on Oct. 12 from Noon to 1:30 p.m. with turkey pie being foremost on the menu. Come out to support the Meals on Wheels program while enjoying a great meal.
Tuesday Planners are getting ready for Halloween with their second annual Costume Sale on Oct. 18th and 25th from 8 a.m. to Noon at the Cordes Lakes Community Center, 16357 S. Cordes Lakes Drive. Costume cost is from 25 cents to $3.00.
WEEKLY EVENTS
Bingo is held every Wednesday at 6 p.m., doors open at 5 p.m. at Cordes Lakes Community Center, 16357 S. Cordes Lakes Drive. Jackpot varies weekly.
Exercise Class starts at 8:30 a.m. and is held on Monday and Wednesday. Chris Shackelford is leading the exercise classes at the Community Center at 16357 S. Cordes Lakes Drive.
TOPS is held weekly on Fridays at 20049 E. Club Lane. Weigh-in at 8:45 a.m. with meetings starting at 9 a.m.
United Teens meets every Friday at 11:30 a.m. at the Cordes Lakes Community Center at 16357 S. Cordes Lakes Drive. This group plans and runs their own events with adult supervision. If interested in joining, contact Tom at 928-853-1973.
The Tuesday Planning Committee meets at the Center at 16357 S. Cordes Lakes Drive at 9 a.m. Meetings are open to everyone and you are urged to present your ideas for fundraisers, improvements, etc.
Big Bug Charity Quilters meet every Monday at the Mayer Senior Center, 10051 Miami, from 9 a.m. to 2:30 p.m. Beading is held Wednesday, 12:30 p.m.
MONTHLY EVENTS
Cordes Lakes Brush Yard will be open Saturday, Oct. 18 from 7 a.m. to Noon. Please DO NOT dump trash over the fence into the unattended yard. This could create a violation and force the yard to be shut down permanently.
Storytime at the Cordes Lakes Public Library is held on their first Friday of the month, with Miss Ruth reading a store to the pre-schoolers at 3 p.m. The library is located at 15989 S. Cordes Lakes Drive.
Big Bug Gem & Mineral Club meets the 3rd Tuesday of the month at 7 p.m. at various member's homes. Contact Jack Bennetto 928-632-4277 for more information and where their next meeting will take place. They have their field trips on the Monday prior to their meeting.
Love Ministry is located at 14720 S. Stagecoach Trail in Cordes Junction in the mobile at the Extra Self Storage. Hours are 9 a.m. to 1 p.m the 3rd and 4th week-ends of the month. For more information or to give a donation, contact Carol Peck at 928- 899-5050.
American Legion meets the third Friday of each month at 1 p.m. in the Conference Building at the Cordes Junction Motel at 19780 Hitching Post Way. As you enter the property, the building is directly in front of you.
Mayer Fire has their open board meetings on the 3rd Monday of the month at 6 p.m. at the main location on highway 69. Due to vacations, the next meeting is scheduled for Sept. 29th.