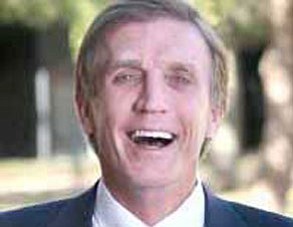 Originally Published: September 20, 2014 6 a.m.
Congress passed a supplemental spending bill Thursday to keep the U.S. government from going broke. They avoided another shutdown. It wouldn't be very smart for House members and senators to let the U.S. government shut down, it's not like they're employable anywhere else.
"Django Unchained" star Danielle Watts was arrested in L.A. for having sex in the front seat of her boyfriend's car on a street in broad daylight. She calls it a civil rights issue. Obamacare just ordered women's healthpolicies to cover the cost of birth control pills and tinted windows.
The Royal and Ancient GC at St. Andrews in Scotland followed Augusta's lead and voted to allow women to join the club. The old guard is upset. Traditionalists believe that golf was invented so that two men could go for a walk in the woods without people talking.
The Baltimore Ravens took action to repair the NFL's tattered image with women Friday by instituting the Ray Rice jersey trade-in program. They will take the old jersey and give you a brand-new gun.
President Obama assured Americans on Thursday he has a plan to defeat ISIS without using any U.S. combat troops. Critics say by relying on Arab troops we're going to wind up in another Vietnam, which is ridiculous. For one thing, we're never going to get the Vietnamese to show up.
More like this story