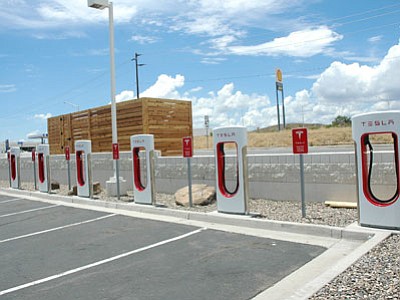 Originally Published: September 17, 2014 6:05 a.m.
Cordes Lakes has joined the ranks of the Supercharger network system and added a Tesla battery charging system to its Shell station.
Howard Magee, general manager for Shell/Carioca Co., said that any day now, the Tesla charging stations at the Shell station in Cordes will be up and running.
"For a person who drives a Tesla, it's free," he explained regarding the charging service.
Anyone driving a Chevy Volt or other type of electric vehicle will not be able to use the Tesla charger at this time, as they are specifically for Tesla owners. However, some stations feature a charging outlet for those consumers with adapters. The Phoenix metro area, for example, has about 20 such stations, Magee said.
A Tesla owner can drive from San Diego to Seattle and find charging stations along the way, or Los Angeles to Phoenix, Magee said. The way Tesla plans to go, charging stations will be featured along all major routes within the U.S. The stations are strategically placed to allow owners to drive from station to station with minimal stops.
The range of a Tesla, after a full charge, is around 300 miles. A Chevy Volt hits around 60 to 80 miles in between charges, Magee explained.
The good news for the Shell station in Cordes Lakes: Since it takes between 20 minutes to a half-hour for a Tesla to completely charge, this may allow for more business within the station as far as shopping, eating and recharging the human battery.
Tesla has now opened 94 Supercharger stations in North America. Other Arizona supercharging stations can be found in Buckeye, Holbrook, Kingman, Quartzsite, Yuma, and Flagstaff. Each Tesla station costs around $300,000 to install at an existing gas station, and Tesla works in conjunction with the federal government.
The Cordes Lakes Shell station is located at 14905 S. Stagecoach Trail.
More like this story