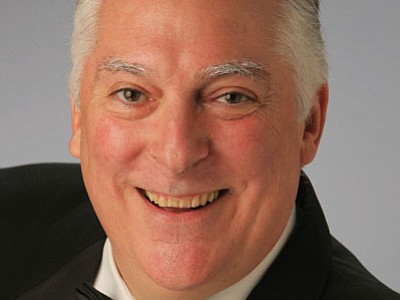 Originally Published: October 23, 2014 6 a.m.
The "outstanding" music of George Gershwin will light up the Elks Theatre and Performing Arts Center in a Lonely Street Production concert Friday.
"Gershwin was a transcriber for Irving Berlin," singer Jack Neubeck said. "When Berlin recognized Gershwin's talent, he told him, 'You don't need to transcribe for me. Go write your own music.'"
Neubeck and Rebecca Carlson will star in "I Got Rhythm - Gershwin Songbook," which starts at 7 p.m. Tickets are $22/$25 and are available at the Elks box office by calling 777-1370 or logging onto www.prescottelkstheater.com. Tickets will also be on sale at the door one hour before show time.
"Gershwin was a real student of music," Neubeck said. Musically educated, Gershwin "understood intense things. He wrote 'Rhapsody in Blue' in one week.
'"Rhapsody in Blue' is a classical piece of American music. For someone from Tin Pan Alley to write a piece so musically intense is pretty amazing."
Gershwin was "truly a gifted composer and musician," Neubeck said. "Hs music could be very intricate or very simple at the same time."
Neubeck and Carson have both been passionate about music since they were children.
Neubeck started his musical path "probably in the first grade. I've just one it forever," he said, adding he has been a professional since he was 19 years old. Carson has been immersed in music since her childhood, she said, largely because her father, a lover of music, exposed her to a lot of good musicians, such as the Carpenters, Barbara Streisand, Chicago, and the Beatles," among the names she mentioned. She performed in high school productions, and her career "took off from there."
Both Neubeck and Carlson have college degrees. Carlson graduated from Waldorf College in Forest City, Iowa and went on to study at the Lynette Sheldon Actors Studio in New York. Neubeck graduated from Adelphi University on Long Island, N.Y. He is also involved with the Invisible Theatre in Tucson. When Carlson went to college, she planned to be a vocal major, but got a degree in theater performance instead.
When she moved to Tucson, she reconnected with her music she said, and has been performing for Lonely Street Productions since its inception.
For the past 12 years, Carlson has been performing jazz, blues and rock, singing in venues around he Southwest.
Friday's performance will feature the music of both Gershwin brothers, George and Ira.
Carlson likes to weave storytelling into her singing, relating the origins of songs the audience can expect to hear.
Among melodies on the play list are "I've Got a Crush on You," "Someone to Watch over Me," "Embraceable You" and more.
"Rhapsody in Blue - Gershwin Songbook" will have the feel of a New York super club, Carlson said, taking the audience back in time, when the Gershwin music was really big.
After this particular show, Carlson says people tell her, "Thanks for the memories."