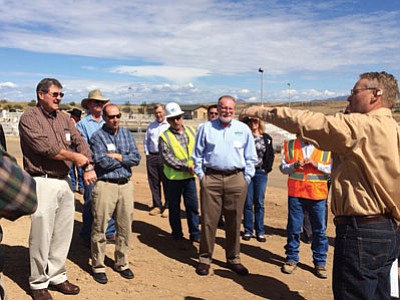 Originally Published: October 10, 2014 6:02 a.m.
PRESCOTT -  City officials have joked for years that the A+ quality treated wastewater (effluent) that would come out of the newly expanded Airport Wastewater Treatment Plant would be pure enough to drink.
Mayor Marlin Kuykendall played off of that assertion Thursday morning, when he invited attendees at the ribbon-cutting for the $42 million plant expansion to sample the effluent.
Although the water he offered turned out to be bottled water, not effluent, the stunt emphasized the point: The end product at the new plant will be considerably cleaner than the previous B+ effluent.
About 60 people, including officials from throughout the area, contractor representatives, and city employees, turned out Thursday morning for the ribbon-cutting and tour of the new plant.
Located off Melville Road in northeast Prescott, the plant has been under construction for the past two years.
City officials say the expansion will increase the capacity at the plant from the current 1.2 million gallons per day to 3.75 million gallons per day.
Speakers at the ribbon-cutting emphasized the teamwork that was necessary for the expansion - the largest public works project in Prescott's history.
"What you see here today - for a city the size of Prescott - is extremely impressive," City Manager Craig McConnell said, referring to the expanded plant, which includes a new aeration basin and several new operational buildings.
Former Prescott Public Works Director Mark Nietupski, who oversaw the project until his retirement earlier this year, said the expansion "was accomplished with relative ease, when you consider the magnitude of the project."
After the ribbon-cutting, Craig Dotseth, the city's senior utilities operations and infrastructure analyst, led a tour of the expanded plant, and noted that the project was done with expansion potential in mind.
"The new facility is scalable, enabling future expansion phases to increase treatment capacity up to a total of 15 million gallons per day," Dotseth told the tour group.
Throughout the two years of construction, Dotseth said the project had required 230,000 cubic yards of earth to be moved, and had involved the application of 10,150 cubic yards of concrete (equivalent to 39 miles of sidewalk). It also required 2.5 million pounds of rebar (reinforcing steel); 25,850 square feet of masonry; and 3.4 miles of pipe.
PCL Construction/Fann Environmental built the expanded plant under a $35.3 million contract. Altogether, the project will end up costing about $42.6, including engineering, land acquisition, and permitting.
To pay for the project, the city obtained a WIFA (Water Infrastructure Finance Authority of Arizona) loan, and is paying back the 20-year debt through user rates and impact fees.
Follow Cindy Barks on Twitter @Cindy_Barks.
More like this story