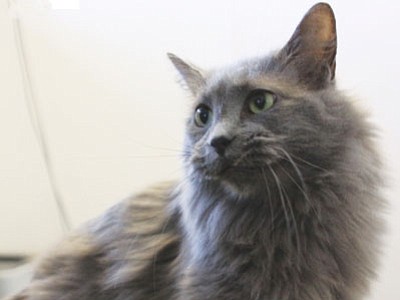 Originally Published: October 1, 2014 6:04 a.m.
Imagine doubling your impact for doing good. You have that opportunity this month because thanks to a donor wishing to remain anonymous, the Yavapai Humane Society has a wonderful opportunity to raise $60,000 through a Matching Gift Challenge.
One of our benefactors pledged $30,000 to help the many needy pets in our community - but there is a catch - the $30,000 gift is contingent upon our community matching this gift.
What this means is that any donation you make to YHS this month will be automatically doubled and will help twice as many animals - and you have the opportunity to double your impact through the end of the month or until the challenge is met.
YHS is asking you to help us meet this goal with a gift of any amount - knowing your gift will do twice as much good this month as it would at any other time. If you are a YHS supporter, or an animal lover, this is an amazing opportunity to help twice as many animals.
Should the match be met, half ($30,000) will be dedicated to helping owned pets obtain spay/neuter services at the YHS Spay/Neuter Wellness Clinic (per the wish of our benefactor). The matching $30,000 in gifts will be dedicated to helping the hundreds of homeless pets sheltered at YHS on any given day.
This plea was also made in September and nearly $10,000 has already been raised. We only need about $20,500 to reach the Matching Fund Challenge - making $60,000 available to help hundreds of animals receive the love and medical care they need.
There are not many opportunities where you can immediately double your investment, but this is such an opportunity. So please don't hesitate; send your donation via our website at www.yavapaihumane.org/event/match or by calling 445-2666 ext 105 - and let our benefactor double your gift.
In other news, I want to congratulate Pat and Nancy O'Brien for receiving the Yavapai Humane Society's first annual Heart of Gold award at this year's Reigning Cats & Dogs Gala. Each year YHS will present this award to someone in our community who consistently demonstrates the highest level of animal welfare philanthropy through gifts of time, talent and/or treasure.
The O'Brien's were selected because of their generous, deep and long-standing commitment and support of animal welfare and the values and beliefs of the Yavapai Humane Society.
One example of the O'Brien's generosity over the years is their gift of a 1966 Ranchero for this year's annual car raffle. The annual car raffle is becoming something of a YHS tradition ever since Roger and Luanne Felch donated a mint condition 1966 Mustang in 2011 that raised over $22,000 through the sale of raffle tickets.
Inspired by the Felch's generosity, the O'Brien's donated a mint condition 1971 CJ5 Jeep in 2012 which raised over $27,000 to help fund YHS life-saving programs. This year the O'Brien's continued the tradition by donating a mint condition 1966 newly restored Ranchero with less than a hundred miles since restoration; a new 302 ford engine; new automatic transmission; new power disc brakes; new paint and matching color bed liner; new chrome; new interior; is Arizona Rust Free and has less than 38,000 miles from factory.
You can purchase your raffle tickets ($10 each or six for $50) at www.yavapaihumane.org/raffle or at any YHS point of service (the Thrift Store, the Spay/Neuter & Wellness Clinic, or the YHS main campus) as well as at any Olsen's.
It is only through your generosity that YHS is able to provide the very best in shelter care to our community's neediest pets.
Ed Boks can be reached at eboks@yavapaihumane .org or 445-2666, ext. 21.
More like this story