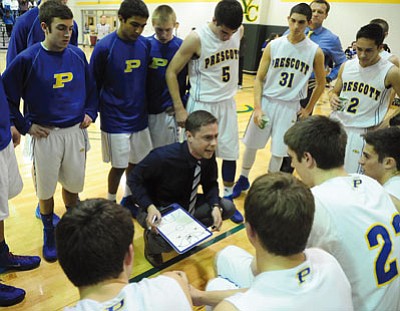 Originally Published: November 28, 2014 6:02 a.m.
PRESCOTT, Arizona - Prescott's Adam Neely has a luxury that not too many high school basketball coaches at any level enjoy - an abundance of players he can count on, including one who's 6-feet-10-inches tall.
"This is the deepest team I've ever had," says Neely, entering his sixth season as the Badgers' head coach. "We have the potential to use 10 players every night. That's unusual in basketball."
Neely hopes that Prescott's momentum from the end of last season will carry over to the 2014-15 campaign. He got a glimpse of the Badgers' progress three nights ago in the their opener (they lost, 65-53) against Section 1 rival Flagstaff, which finished runner-up in the Division 2 state tournament a year ago.
In the section final last year, the Badgers shocked heavily-favored Flagstaff by opening up a 15-point halftime lead. But the Eagles rallied in the second half to win, 67-55.
"That game opened our eyes to what we were capable of doing," Neely says. "We preached team basketball. The players bought into it and grew as a group. It was a season to be proud of."
The Badgers' 13-18 record belied the team's upswing at the end when they won seven of their final 10 outings, including a six-game winning streak.
Neely has high expectations for 6-10 senior center Aric Fredlund, who played in all 28 games last season but was not a significant scorer or rebounder.
"Aric has massively improved physically and mentally," Neely says. "He's got better hands. He's added 15 pounds of muscle and is much stronger. He runs the court well and understands the game. You hear his voice in practice. He's fully respected by his teammates.
"Aric is in a position to be dominant in the post," Neely adds. "With his size and long arms, he'll block shots or force shooters to change the directions of their shots."
Fredlund's presence will allow the Badgers' defense to pressure ballhandlers more aggressively, knowing they have a 6-10 backup. This should give the Badgers more opportunities to transition to fast breaks. That way, Neely points out, the defense creates the offense.
Two of the top four scorers from 2013-14 will bolster the Badgers at both ends of the court.
Football standout Skylor Clinton, a 6-2 senior forward, demonstrated his overall athleticism by averaging 9.0 points per game last season, third behind graduated scoring leader Jake Feingold (9.9) and Jake Licavoli (9.2), who is now playing at Gilbert Christian High School after his family moved in the off-season. Clinton grabbed 6.4 rebounds per outing, runner-up to Licavoli (8.1). All three of the Badgers' top scorers made the All-Courier boys' basketball team last season.
"Skylor is an active player," Neely says. "He got his hands on a lot of balls [65 deflections] to create turnovers on defense. He's strong around the rim and has a nice jump shot from 8- to 10-feet. With his quickness and strength, he will get [to play] a lot of minutes."
Junior wing Logan Smith led the team with 25 three-pointers while averaging 7.8 points per game a year ago. Neely calls him "instant offense." He scored in double figures eight times as a sophomore, including a high of 21 against Saguaro, and was second on the team with 45 steals.
Another junior, wing Colin Fernandez (4.4 ppg), complements Smith's skills as an outside shooter with strong moves driving to the basket.
"Their experience in tough games will make a difference for us," Neely says. "They don't play with a lot of fear. They had some big games for us as sophomores."
Neely expects 5-10 guard Pravesh Patel, another junior who gained varsity experience as a sophomore, to be one of the engines driving the defense.
"Pravesh will be an impact defensive player with his energy and leadership," Neely says.
Several players from last year's junior varsity team are expected to fill important roles. Juniors Drew Raskin, who moved up to the varsity at the end of last season, and Garrett Schulz are competing at point guard. Tyler Bell, a 6-4 junior, is a versatile athlete who can play four different positions. Zach Fetter, a 6-5 junior center/forward, led the JVs with a 13.6 scoring average.
"Zach is solid in the paint," Neely says. "He's got good hands, rebounds well, and can finish around the rim. We've got to find ways to get him on the floor. He's a productive player."
Neely expects the Badgers' section, which includes rival Bradshaw Mountain, to be tough as usual.
"It might be more balanced than last year," he says. "Every game will be a battle."
This season, at least, he'll have more troops.