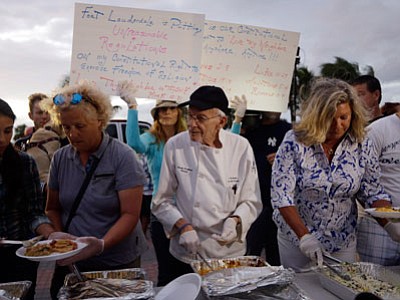 Originally Published: November 8, 2014 6:04 a.m.
A 90-year-old Florida man is facing up to 60 days in jail and a $500 fine for an act of giving. His offense? He fed the homeless.
"One of the police officers said, 'Drop that plate right now,' as if I were carrying a weapon," Arnold Abbott said after being arrested in Fort Lauderdale for violating a new ordinance that restricts public feeding of the homeless.
Two ministers, Dwayne Black and Mark Sims, were also arrested as they handed out food.
According to an Associated Press story, some officials, residents and businesses in the Fort Lauderdale area insist the growing homeless population has overrun local parks and that public spaces merit greater oversight, hence the motivation behind the ordinance addressing feeding the homeless.
Do Fort Lauderdale city officials really believe their ordinance will have an effect on the homeless population? And since when do public spaces belong to those who find themselves blessed to have a home?
This ridiculous law just means more people may go hungry - unless Arnold Abbott continues his mission. A World War II veteran and civil rights activist who has been feeding the homeless for more than two decades in honor of his late wife, Abbott, thankfully, remains undeterred. On Wednesday evening, Abbott and Black went back out for a feeding along Fort Lauderdale beach. While nearly 100 mostly homeless people and volunteers cheered Abbott's arrival, police watched the dinner take place before issuing him a citation.
I am truly awed by this idea of criminalizing compassion and acts of charity. After a search of the Prescott City Code, which is available online, I was relieved to find the city has no such ordinances concerning the homeless, given the search results were correct. But, over the past three months I have worked for the Courier, I have read numerous comments from readers complaining about the homeless population in the city that has dubbed itself "everybody's hometown" (apparently for some "everybody" does not include the homeless).
Instead of complaining about those who are homeless and attempting to address the issue through silly ordinances such as the one in Fort Lauderdale, those who see homeless people as a problem should aspire to find compassion for those less fortunate and propose solutions to the problem of homelessness.
Creating laws that make helping the homeless criminal offenses is definitely not a solution.
- Deanna Allen, web editor