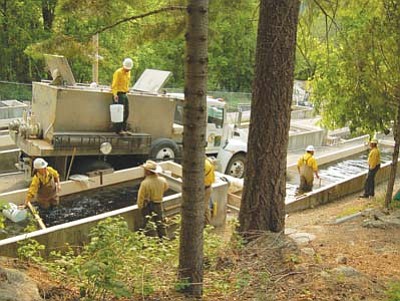 Originally Published: May 28, 2014 6:03 a.m.
SEDONA - With the Slide fire bearing down on Sterling Springs Fish Hatchery Saturday, the Arizona Game and Fish Department rescued 600,000 trout fingerlings from the hatchery and transported them to safe sites.
The Sterling Springs Fish Hatchery typically produces 1.6 million eggs annually. It is responsible for 68 percent of the trout production for stocking in state waters. It's located along Highway 89A in Oak Creek Canyon north of Sedona.
The emergency fish rescue operation that began at 6 a.m. helped ensure Arizonans will be able to continue to fish for trout. The effort also protected a portion of threatened, native Apache trout.
Four trucks each made two trips to transport more than 350,000 rainbow trout and 150,000 brown trout to Page Springs Hatchery in the Verde Valley, as well as more than 80,000 Apache trout to Canyon Creek Hatchery near Heber-Overgaard. Another 200,000-plus fry remain in Sterling Springs Hatchery tanks, too small to move, yet relatively protected.
Carol Lynde from Game and Fish produced a video of the effort. The link is http://youtu.be/aUNz17UnFcQ.
Before the rescue, the Slide fire incident management team made sure the hatchery was safe enough to allow Game and Fish personnel to enter and exit with minimal risk.
"Wednesday afternoon, things were getting pretty bad close to here," said Bryce Sisson, manager at the Sterling Springs Fish Hatchery. "We could see flames less than a quarter mile from the hatchery that afternoon when we left. A helicopter was dropping water real close to the hatchery. It was looking pretty scary."
Water for the hatchery is delivered through a pipeline more than a mile long. Any fire-caused compromise to the pipeline, which is fragile and above ground, would have quickly killed fish.
When the annual monsoon arrives this summer, water delivery will be at risk again from a potential overland flow of ash, silt and debris that could put all trout in the hatchery runways at risk.
So Game and Fish officials are unsure when the fish will return to the hatchery.
More like this story