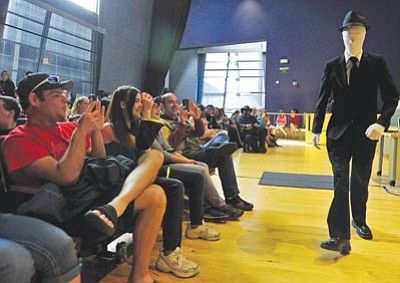 Originally Published: March 30, 2014 6:03 a.m.
PRESCOTT VALLEY, Arizona - Darth Vader walks into a room next to Princess Daisy from Mario Brothers.
That isn't the opening line of a joke, but a description of Saturday's Sci-Fi, Anime, Fantasy, Etc. Convention (SAFECon) at the Prescott Valley Public Library. Crowds dressed in a variety of costumes, and some participated in a "cosplay" costume competition. The event, geared toward teens in the quad-city area, featured workshops, panel discussions, a martial arts exhibition, art competitions and refreshments.
Artist and illustrator Samantha Violette attended to share her anime and comic art with those in attendance. She traveled to the con from her home in Tucson. She produces her art primarily in watercolor and pencils. Her art can also be seen online at www.samanthaashleyviolette.com.
As a fan of comics and anime, Violette attends conventions throughout the state.
"It's for work, but it's also a hobby of mine too," she said. "I think conventions are great. It's a chance for like-minded people to get together, to make new friends and find common interests."
While small compared to other conventions she's attended, Violette said she enjoyed meeting new people at SAFECon.
"I was very impressed by how well-organized it was," Violette said.
Other attendees for the event included comic book artist Dave Beaty, graphic designer Alec Kozak, and Natalie Wright, author of the popular Akasha Chronicles trilogy that began with the book "Emily's House." Wright chatted with a number of fans during Saturday's SAFECon and made a few new ones along the way.
"I like meeting people, so I enjoy talking to everyone. I especially enjoy meeting young people who use their creativity to express themselves," Wright said. "This convention is particularly cool because it's devoted to teens." Wright's novels focus on teens. A complete list of her books can be found at www.nataliewright.net.
Follow reporter Patrick Whitehurst on Twitter @pwdcourier