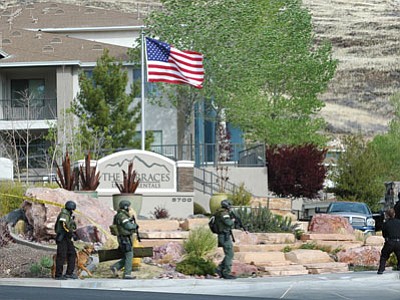 Originally Published: March 27, 2014 8:03 a.m.
PRESCOTT VALLEY, Arizona - A man who called 911 to report a home invasion and got into a standoff with police has not been charged, a police spokesman said.
The 29-year-old man called police at about 6:40 a.m. Wednesday and said that "armed individuals were attempting to force their way into his residence" in the 5700 block of Market Street, Sgt. Brandon Bonney said.
Officers set up and began talking to the man, but his story became "inconsistent," Bonney said, and it was clear that no home invasion had happened.
Negotiators tried to get him to come out, but he would not.
"It was apparent that the individual was hallucinating," Bonney said. Police believed he was armed with guns, so the SWAT team was called in.
The man finally came out at about 11:30 a.m. and was taken into custody.
He was taken for a mental health evaluation and treatment but has not been charged with a crime, Bonney said.
Neighbors who lived close by were evacuated for several hours as a precaution.