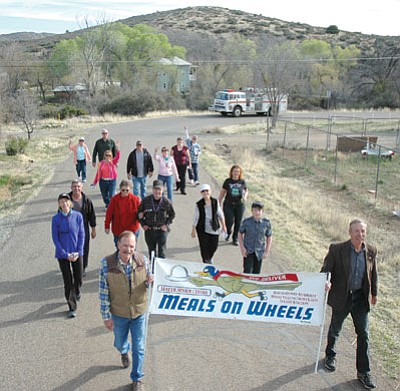 Originally Published: March 26, 2014 8:42 a.m.
Whether they fortified themselves with eggs, potatoes, biscuits-and-gravy beforehand or waited to work up an appetite over the 2-mile walk, all 16 or so participants enjoyed the sixth annual March for Meals and hot breakfast Mayer Area Meals on Wheels sponsored Saturday.
Mayer Fire, with Captain Tom Haney and firefighter Steve Quintero, led the marchers in one truck, lights flashing, while another with firefighters Nick Strupp and Steve Valdez brought up the rear. Yavapai County District 2 Supervisor Tom Thurman and Mayer Justice of the Peace Bill Rummer carried the Meals on Wheels banner. A handful of residents stood along the route and encouraged walkers with a cheerful greeting.
Meals on Wheels director Virginia Tallent said the event raised more than $1,500 in pledges and donations, with funds still coming in.
"That's very good for us," Tallent said. "I will submit a grant request and we should get at least another $1,000."
March on Meals is an annual nationwide event.
More like this story