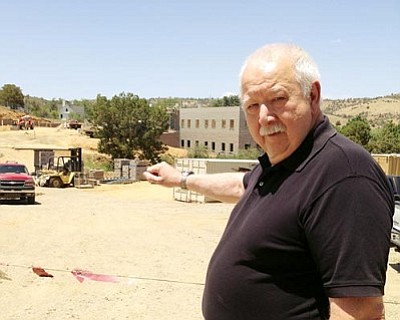 Originally Published: July 18, 2014 6 a.m.
PRESCOTT, Arizona - Work is on track for a new 18,000-square-foot mental health facility on the Northern Arizona Veterans Affairs campus in Prescott.
According to Jerry Easterday, VA service line manager for mental health, work on the $7.8 million project continues on schedule and on budget.
"It's expected to open June 1, 2015," Easterday said.
The two-story multipurpose mental health service facility will offer a number of expanded programs for patients at the Prescott VA, as well as seven group-meeting rooms, Easterday said.
"That's important because some of the services are offered in groups. One of the programs we're going to be expanding is what's called an IOP, or 'intensive outpatient.' It's a (higher) level of care.
Neuro-psychological services will also be expanded into the new building once construction is complete, Easterday added. Treatments can also be expanded, he said.
"We want to get into treatment with some of the veterans that have traumatic brain injuries," he said. "There are some treatments that help them improve their skills."
Post-traumatic stress disorder teams will also be moved to the new building.
A mental health facility annex may also be housed at the new building, he said.
"We're not moving people from (the existing building), but we're expanding the number of providers that we will have," Easterday said.
Glendale-based RCDS Contractors, owned by a service-disabled veteran, broke ground on the project in early February.
"We're working on trying to project what kind of services we will need in the future in terms of treatment," Easterday said. "This expansion will allow us to add some of those services that we're projecting will be needed."
Other amenities will include a garden area; waiting areas for veterans and family members; and a 72-space parking lot.
Forty-eight geothermal vents have also been constructed on the project site, at a depth of 400 feet, which will be used to heat and cool the building.
"It's cost-effective and it's very environmentally friendly," Easterday said.
Follow reporter Patrick Whitehurst on Twitter @pwdcourier