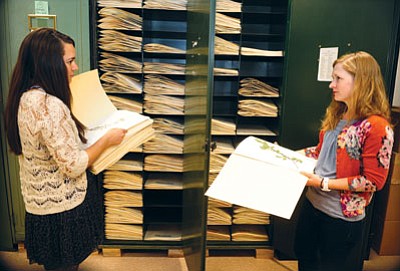 Originally Published: July 14, 2014 6:01 a.m.
PRESCOTT - Those who remember turning the pages of print books, might also remember seeing leaves pressed into a few of them at one time or another.
The Natural History Institute at Prescott College has taken the pastime a few steps further by making their new herbarium collection, donated in May by Yavapai College, available to both students and scholars.
Staff at the institute are currently working to stamp and file the collection - made up mostly of local flora, and add the data to a digital file.
The collection, originally created by instructor Archie Dickey, includes about 8,500 herbarium specimens collected since the 1960's. Many of them, said program coordinator and collections manager Lisa Zander, were collected in Yavapai County.
"It's exciting to have this collection at the Natural History Institute so that it's now accessible to students from all area colleges," Zander said. "We're now the largest herbarium in the region."
High school and elementary students are also invited to study the specimens, she said.
"It's also available to groups like the Prescott chapter of the Arizona Native Plant Society and researchers with the Prescott National Forest. All these different groups can use the herbarium since we're actually curating it," Zander said.
The institute is currently planning an open house for the herbarium in September. Though a firm date has not been set, Zander said the event would be open to the public.
Scott Farnsworth, dean of the sciences and health division at Yavapai College, said the collection was donated after discussion with faculty and college staff.
"We will still be allowed access to it and it also affords broader opportunities for other folks to access it as well," Farnsworth said. "They will have it more readily available than what we were capable of doing. I think we have a good working relationship with the various other institutions of Higher Ed and this was a way to further that partnership."
An herbarium collects dried, pressed plant specimens into a single location for reference and study.
"You find a plant and, with permission, you collect it, press it, and glue it onto a piece of paper. Also attached to that paper is a label that says where it was collected, when and who collected it and what that plant is and what its scientific name is," Zander said.
The labels can also contain other pertinent information, such as the names of other plants growing in the area, the type of habitat and other facts.
The collection, Zander said, is organized by the type of plant and its genus and species family.
"If you have a ballpark idea of what you're looking at, you can go grab the folder and see if there's something in there that looks like what you have," Zander said. "One of the reasons we have the collection is to make people more familiar with the collections and why they're useful. Having it here, more and more people will have access to it."
Two uses for an herbarium is to better understand how different types of plants are related, Zander said.
"It would help if you were doing genetic studies and you want to understand how all the plants in the area are related. A lot of genetic studies and that sort of thing are done using herbariums," Zander said.
Herbariums are also helpful in creating a database of flora, she added, as well as an inventory of plant specimens for a particular area.
For more information on the institute, visit their website at www.prescott.edu/natural-history-institute.