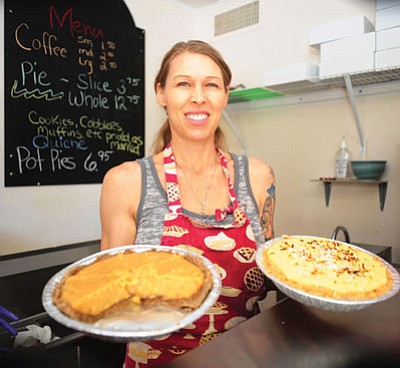 Originally Published: July 4, 2014 6 a.m.
Kim Pinker has a passion for baking pies and that passion shows in her work.
The Rustic Pie Co., located at 802 Valley Street in Prescott, offers a vast assortment of freshly made pies, ranging from pecan to apple blueberry and beyond - all made by Pinker and her family. Pinker owns the business alongside her husband, Nishon.
The Rustic Pie Co. has been in business for nearly two years. Fresh pies and other treats are baked there daily, Nishon said. The Pinkers' children also help out at the shop. Pie offerings can be purchased whole and by the slice to be enjoyed at the cozy shop.
"Everything is made completely from scratch," Pinker said. "There are no canned fillings. The pecan is one of the most popular pies. Even the crust is done by hand. We don't use a mixer for the crust. It's all done by hand. People tell us the pecan pie is the best they ever had."
The Pinkers first went into business in southern California. Originally the family planned to open a café with friends. When that fell through, Kim Pinker started making her own pies. She's been baking them ever since.
Eventually the family decided to move to the Prescott area. Once in the quad-city area, they soon found a piece of property and opened the Rustic Pie Co. shortly thereafter. "We went to a Realtor out here, told them what we were looking for. We only looked at two buildings," Nishon said.
Besides tables inside the quaint pie shop, outside seating also is available in the courtyard.
The menu
While the shop specializes in pies made from scratch, the locally owned family business also offers homemade cookies, breads, cinnamon rolls, muffins and much more. Beef, vegetable and chicken potpies also are on the menu for those who want to stop in for a little lunch. "We make three different pot pies and they are just killer," Nishon said. "They're all made here with the same crust we use for our pies."
Kim Pinker makes more than 50 different pies. Assorted pies vary on a daily basis due to the availability of fresh ingredients.
"There's always apple, cherry, and mixed berry. She also mixes apple with other ingredients, raspberry with other ingredients. Out of the blue she made a raspberry, rhubarb pie and it was hugely popular," Nishon said. "There are no canned fruits, nor canned fillings. It's all made right here."
Other popular pies include peanut butter and chocolate, chocolate truffle and coconut pie, which also is a trendy choice among their patrons, Nishon said.
"Every single thing is made here," he added.
In the coming months, the Pinkers plan to offer ice cream at the pie shop. Like their pies and other offerings, the ice cream will be made from scratch.
"We have some recipes that we want to try out," Nishon said.
Pinker recommends calling ahead for pie orders. In their two years of business, the shop has already baked for weddings and other large events.
"That's the best way to get what you want is to call the day before," Nishon said. "We're baking all day long."
More like this story