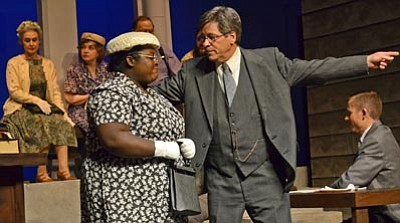 Originally Published: January 17, 2014 6 a.m.
"'Mockingbird' still says what it has to say; it has managed to survive the years without preamble," Harper Lee wrote of her classic novel, "To Kill a Mockingbird," in 1993, its 33rd year of publication.
Indeed, the Pulitzer Prize-winning saga set in the deep South in the 1930s has endured, never been out of print and resonates its timeless qualities in Prescott Center for the Arts' production of "To Kill a Mockingbird," which opened Thursday and runs this weekend and next.
Lee's novel, voted the best book of the 20th century by librarians across the country, tells the story of a young black man, Tom Robinson (Patrick Bright), charged with the rape of a white girl. The story is about conscience, and the audience will see how children Scout (Carly Fonda) and Jem (Aiden Montgomery) learn important values through the eyes of their attorney father Atticus Finch (Kevin Nissen), who defends Robinson in a court trial that ends with his brilliant closing argument.
Carly Fonda, who is only 12 years old, read "To Kill a Mockingbird" last year and "loved Scout," she said. "I really connected with her. I felt like we had a friendship. I love her curiosity. I love how she stands up for what she believes in. She stands up for her brother, her friends, and her father. I so enjoy playing Scout. It's like finding qualities you have in yourself that you really thought you never had.
"I think it's a play everyone should see," she continued. "It teaches that there is good in everybody. You need to step in their place to see that. It's a great family show." Parents can discuss the moral that is "still relevant - to always try to look for the good in people, even though it's hard to do."
From the moment the play begins, Nissen's gentleness as a man comes across on stage in his role as Atticus.
Of his character, Nissen says, "I think Atticus' most defining characteristic is his optimism and his basic belief in the good of people. Atticus teaches his children the same principal ... that there is good in all of us."
In Atticus' closing argument in his defense of Robinson, he delivers "a universal message about fairness, empathy and understanding of people's circumstances."
As he talked to the jury, Atticus "is telling people not what they want to hear but know to be true in their hearts." His argument "may not sway their decision, but he knows the message he gives them will stay with them. I hope parents will bring their kids" to the play, Nissen said. "It's an important American story and something they can talk about and share."
"To Kill a Mockingbird" reminds the audience - and the cast - of racism and inequality across the spectrum and how deeply this may still be embedded in American culture.
"I always liked this story," director Bruce Lanning said, noting that it is becoming popular again around the country.
"There's something in the air now that it needs to be brought back. In looking back to when I read the book, I would think now that things would have changed, but they haven't, not only racially but in other respects. We are on our way, but we're not there yet."
Robinson and Bob Ewell (Bill Haas), the father of the white girl, are juxtaposed as a man who is inherently good versus a man who is full of racism and hatred.
In fact, Ewell is so into his character that the audience booed him when the entire cast took its bow at the end of the dress rehearsal this week.
Haas said he found Ewell's character a "thrilling and priceless role - a once-in-a-lifetime opportunity to play a character who is totally reprehensible and to allow myself to be that character."
The play's overarching message, he said, is that "It's important to treat everybody with the dignity and respect they deserve and to accept different types of people, although it appears at times they may not deserve it, and learn to walk in other people's shoes."
For Bright, "The play really speaks how things were decades ago when it didn't really matter what truth was," he said. "There were certain societal norms and you just didn't go against that. My character wants to be helpful, and he forgot to take care of himself. He left himself open for what ensued - the trial and his being incarcerated."
Joanne Robertson, in the role of the grown-up Scout, narrates and takes the audience through the story.
"It's her memories the audience hears," Robertson said. She finds the themes of the play - racial equality, issues of social class, gender roles and compassion, the loss of innocence - are just as important, if not more important, than in the 1960s when "To Kill a Mockingbird" was published.
Nicosia Garrison plays Calpurnia, the Finches' black cook who basically raises the children.
"I think it's important to know the history of the way things used to be. This happened in real life. (Robinson) was accused and convicted with evidence that he had done nothing wrong," she said. "I think it's important that those stories and incidents don't get lost as we go through each generation."
Nathan Wiggins plays Sheriff Heck Tate and describes his character as "a kind of deep-thinking guy who's not afraid to give someone else the credit and wants to get the job done and do it right." The play, he said, tells the audience to "look at people from their perspective - any misconceptions or judgments of people are often wrong only because we don't understand them."
More like this story