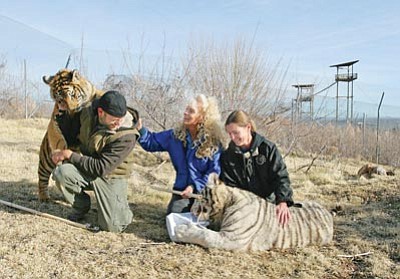 Originally Published: January 11, 2014 6:01 a.m.
CAMP VERDE - Two recently confiscated tiger cubs now call Out of Africa Wildlife Park their home.
Acting on tips from neighbors who said they had seen tigers nearby, Arizona Game and Fish seized the first tiger in the backyard of a Phoenix home on Dec. 31. A few days later, the other tiger was found in Queen Creek.
The male tigers, one orange and one white, are approximately 8 months old and are believed to be siblings, said Ashton Powell, public relations director for Out of Africa.
According to Out of Africa owner Dean Harrison, the tigers are "very overweight and in need of nutrition and workouts." The orange tiger weighed in at 133 pounds and the white tiger weighed 141 pounds.
"They are eating well and are getting vitamins now, and we have a vet visit coming up to ensure they have no parasites or bacteria that need to be cured before introducing them to any other cats," Powell said.
Including the as-yet unnamed cubs, Out of Africa now has 16 tigers. Harrison said he plans to assimilate the cubs with a few of the adult tigers "who will be their teachers, so they can have their schooling."
"Everybody here already loves them," said Harrison. "They're good tigers. We will create a relationship with them, moment by moment."
According to Harrison, the original owner of the tigers was a licensed breeder of tigers and was trying to sell them in Arizona. The owner, Harrison said, "dropped them off at two separate locations, then fled the state. A very odd thing to do, all around."
Game and Fish officials believe the tigers were owned by the same man and likely were legally purchased in another state. But they say the animals' owner will be cited because Arizona prohibits the possession of all wild carnivores.
Bill Helm is a reporter with Verde Valley News. Daily Courier reporter Joanna Dodder Nellans and the Associated Press contributed to this story.