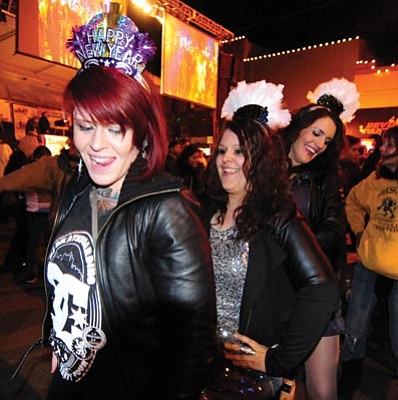 Originally Published: January 1, 2014 8:42 a.m.
As 2013 came to close Montezuma Street in front of Whiskey Row filled up with revelers to watch the third annual Boot Drop in downtown Prescott Tuesday night. Everyone seemed to have a great time while dancing and partying as the giant boot was lowered from a Prescott Fire Department ladder truck.
The only momentary downer came as the expected fireworks never went off. The explanation; according to Prescott Fire personnel on scene about 15 cars bypassed the taped off level and were parked on top of the parking garage where the fireworks were supposed to be launched from. The DJ's running the music asked people to move those cars throughout the last hour but some vehicles never got moved. So as not to cause damage those vehicles the fireworks show was called off.
In the end though it didn't seem to matter to those ringing 2014, they just continued to party.