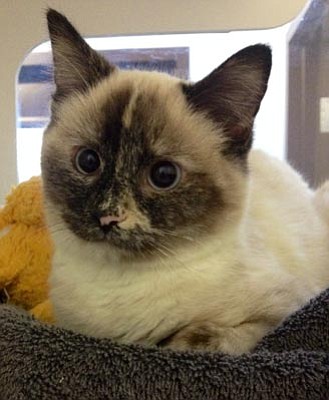 Originally Published: January 1, 2014 6 a.m.
The Yavapai Humane Society (YHS) is launching its 42nd year of promoting and protecting the health, safety and welfare of our community's pets. That represents over a generation of being the only full service animal shelter for seventy miles in any direction. In the truest sense, YHS is the only real "safety net" available to our community's most at risk animals.
In 2013, YHS continued to play a significant role in helping end pet homelessness in Yavapai County. Last year we assisted more than 12,300 pets through our Pet Adoption Program, our Spay/Neuter and Wellness Clinic, and our Lost & Found Animal Care Center.
In 2014, we plan to help even more animals, and we'll need your help to do so.
For three and a half years, YHS refused to rely on euthanasia as a method for controlling pet overpopulation in our community. This is not an easy achievement to sustain and we need your support to help provide food,
shelter, and medical care to the thousands of homeless, abused, neglected, sick and injured pets we rescue and care for each year.
What better way to start 2014 than by becoming a member of YHS for the first time, or by renewing your life saving membership? All you have to do is send a $35 donation to the Yavapai Humane Society, P.O. Box 12, Prescott, AZ 86301.
Or better yet, consider making an automatic monthly donation to YHS by joining our PAWS (Planned Automatic Withdrawal Service). If everyone reading this article would donate just $1 a day - 30 bucks a month, YHS could continue to save every animal that needs our care. What an incredible community commitment that would be!
With strong donor support, YHS will continue to save animals' lives, fight cruelty and rescue homeless animals in need while sustaining our community's standing as the safest region in the nation for pets.
By joining the PAWS program an automatic monthly donation of your choice comes to YHS without the hassle of sending in a check. Each month our secure system will automatically process your donation. Donors can sign up using a Visa, MasterCard, or Discover, can choose an amount that feels comfortable, and can change or cancel participation at any time. You can do this on-line at www.yavapaihumane.org/paws.
Another way to help support the YHS mission is to make YHS a part of your legacy through planned giving. Planned giving takes many forms and, in some cases, can provide you with additional income and/or reduce the amount of taxes you would regularly pay. Planned gifts should be discussed with your financial advisor. If you would like to speak to someone about planned giving, YHS has several professionals who volunteer as members of the YHS Planned Giving Advisory Council who are willing to discuss your options with you. Just call 445-2666 ext. 20 and ask for a referral.
Always consult with a financial advisor about which planned giving opportunities are right for you. YHS is a non-profit 501(C)(3) organization and although we receive little local government funding (about 9 percent of your budget) we receive no national foundation funding which is why we so appreciate and depend on your generous gifts to help care for our communities neediest animals.
When you do decide to include YHS in your planned giving let us know. We would like to recognize and thank you. You or your financial planner can let us know your intentions by e-mail at info@yavapaihumane.org, or by calling us at 445-2666 ext 21 or by mail to YHS Planned Giving, 1625 Sundog Ranch Road, Prescott, AZ, 86301.
With your support, we can make 2014 a year of compassion for all our community's abused, neglected, sick, injured and homeless animals.
Ed Boks is the executive director of the Yavapai Humane Society. He can be reached at eboks@yavapaihumane.org or by calling 445-2666, ext. 21.
More like this story