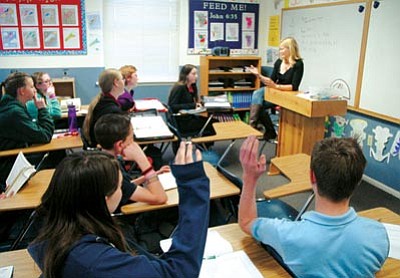 Originally Published: February 25, 2014 6:02 a.m.
PRESCOTT - Parents often see dollar signs when they think of private schools for their children, but according to private education administrators in Prescott, families don't need to earn a lot in order to enroll their children in private schools.
Tuition assistance is available for families interested in enrolling their children in a private school, said Susan Dandos, administrator for the Christian Academy of Prescott (CAP).
CAP has instructed students in grades kindergarten through eighth grade for 30 years. Preschool classes have been offered there for 40 years. Throughout that time, the non-denominational school has been located across from the Prescott Public Library in the First Baptist Church building.
Twenty-five percent of CAP students receive full tuition funding in order to attend classes, according to Marketing and Development Director Joshua Snyder.
"That's around $5,000," Snyder said, adding that those prices vary from kindergarten on up due to facility requirements. Preschool students, for instance, pay a little less than students in higher grades.
While some receive full funding, other families receive partial assistance for their children to attend. On average, student families will receive approximately $2,200 per year in partial tuition assistance. In total, 80 percent of the students enrolled at CAP receive tuition assistance of some sort.
Tuition and scholarship programs are offered at most private schools, including Primavera School, Trinity Christian School and others, for families that cannot afford tuition costs.
"I think one of the misconceptions about private schools in general is, as a parent, they say I can't afford $5,000 - that it's impossible," said Snyder.
Student Tuition Organizations (STO), Snyder said, provides funding for parents, which includes the Arizona Christian School Tuition Organization, the Arizona Leadership Foundation, the Institute for Better Education and others. Each STO sets their own criteria for awarding tuition grants and scholarships.
"Our office staff is exceptional at making sure we step parents through the process," Snyder said.
Money from an STO comes from tax credit donations. Scholarships are also available for disabled students, students switching from public to private schools and other sources.
"Taxpayers anywhere in Arizona can contribute to an STO organization," Dandos said.
CAP, for instance, works with around eight STOs.
"Your average, everyday person can walk in and say they want to enroll their students and the first thing we do is talk about scholarships," Dandos said. "We show them the applications and talk them through it. In the meantime, there's always something they're going to have to pay, like a registration fee of $50. Not everything is covered by tuition dollars. They pay a books and materials fee."
The school itself also offers an internal scholarship called the Christian Academy of Prescott Tuition Assistance Program (CAPTAP).
Like other private schools in the Prescott area, such as Sacred Heart, CAP officials stress the importance of parent involvement, social and spiritual excellence in the student's day-to-day activities.
"Parent involvement is the number one thing that makes a difference in student achievement," Dandos said. "We know that parents have chosen to be there and that they're 100 percent involved."
Dandos stressed the importance of smaller classrooms, which CAP strives to accommodate.
"In the public schools in Phoenix, my largest class size was 36," Dandos said. "I found, when I came to teach here, I could do a ton with 10 to 12 kids."
While the private school doesn't offer a hot lunch program, students can compete in a number of athletics, including basketball, flag football, volleyball and more. The school uses standardized Terranova testing, not AIMS.
Teacher Jen Lucas enrolled her first-grader in the school due to the availability of small class sizes.
"I picked the school for the class sizes and for the integration she could learn through the Bible," Lucas said. "I think there's more of an opportunity to have individual instruction at a private school with smaller class sizes."
Biblical principles are taught throughout the school's curriculum. The Association of Christian Schools International accredits the Christian Academy of Prescott.
"Our mission is 'Growing Kids in Christ,' so we gave them a Christ-centered education," Dandos said. "We believe that all truth is God's truth."
There are currently 107 students enrolled in grades K-8, with an additional 26 enrolled preschool students. Twenty-five employees work at the school, including 10 full-time teachers.
More like this story