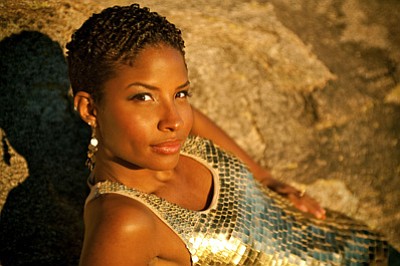 Originally Published: February 24, 2014 6 a.m.
"Soulsville USA - A Salute to Soul, Funk and R&B" come together in a package of top musical hits in a concert Friday, Feb. 28, at Yavapai College Performing Arts Center.
Stars of the Lonely Street Productions presentation are Walter Belcher and American Idol finalist Crystal Stark.
Stark, who has lived in Tucson since she was 4 years old and now teaches at an elementary school there, plays piano, bass and drums in addition to her singing, started on her path to performing professionally when she was 11 or 12 years old, she said.
"I always loved to sing, but I didn't realize I had the talent for it until I heard other people sing." That prompted her to think, "I can do it."
While studying at the University of Arizona, she sang with a funk band and did gigs around town.
In 2005, she made it to the top 40 in American Idol. She performed such melodies as Mariah Carey and Whitney Houston's "When You Believe," Houston's "I Have Nothing," and the Four Tops' "I Can't Help Myself (Sugar Pie Honey Bunch), which she will also sing in the concert in Prescott.
Stark's favorite genres are old blues, "mainly" rhythm and blue, soul music and funk. "Actually, I really like funk," she said. "I grew up with it. My parents listened to it."
Stark, who is 31, and Belcher often get the question, "Why do you like these songs? They're not of your era."
And they reply, "It feels normal and natural. We grew up with it. It seems innate within us. We've always known these songs." They would add that they are very much in tune with disco, Aretha Franklin and the Bee Gees, as well.
"They stuck with me for sure," Stark said. "I'd rather listen to that than what's on the radio today."
When Stark performs for the Prescott audience, she said she will get to sing some songs she's never sung before - a Gladys Knight hit and "Natural Woman" by Aretha Franklin, which she has only sung on stage once before. "This is one of my all-time favorite songs. I'm pretty excited about it," she said.
"Soulsville USA" will bring to the stage the best rhythm and blues and soul music from the 1960s and 1970s, Stark said.
"You will be able to sing along with every song." And, "The band is rockin'," she said. "It's a blast - all of us having a great time. I'm sure the audience will, too."
The show begins at 7:30 p.m. Tickets are $26 and are on sale at the Performing Arts Center ticket office from 10 a.m. to 4 p.m. weekdays , phone 776-2000, online at www.ycpac.com and one hour prior to show time.