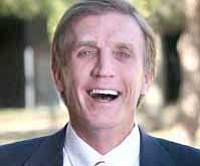 Originally Published: February 22, 2014 6 a.m.
BEVERLY HILLS - God bless America, and how's everybody?
New Jersey politicians filed a suit Thursday to force Governor Chris Christie to release all his documents pertaining to Bridgegate. They're sure he ordered the closure. Chris Christie is going to be the first candidate ever to run for president who can't mention George Washington.
N.J. Governor Chris Christie had his first town hall meeting in New Jersey since Bridgegate broke open Thursday. He spent some time discussing his weight loss. The hottest new way to lose weight quickly is to go on the Obama Diet - every day you let Vladimir Putin eat your lunch.
Russia's men's Olympic hockey team was eliminated by talented Finland in the quarter-finals of the Winter Games in front of a home crowd and world TV audience. It just wasn't their day. An hour later Russia's men's Olympic hockey team was eliminated by Vladimir Putin.
The FCC backed away Thursday after they hinted at plans to place government agents in TV, radio and newspaper newsrooms to monitor the diversity of voices in journalism. How silly. In Webster's Dictionary the new official definition of a journalist is blogger wearing pants.
Powerball Lottery officials announced that Wednesday's winner of the four hundred and twenty-five million dollar jackpot purchased his lottery ticket in California's Bay Area. The winner of the Powerball jackpot hasn't told his wife yet. He can't use his phone on the plane.
More like this story