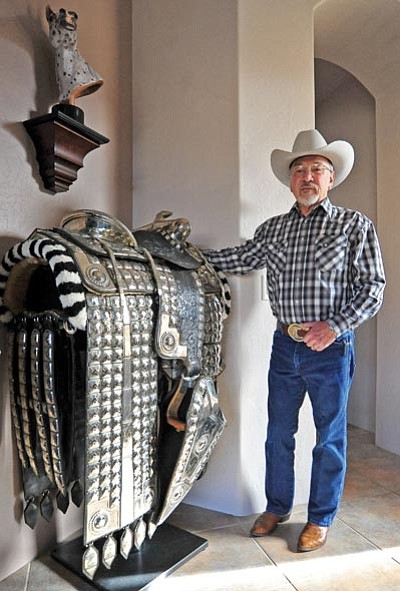 Originally Published: February 21, 2014 6 a.m.
Saddle-maker extraordinaire Dusty Johnson has worked with leather for more than 50 years because he "enjoys anything" that keeps his contact with horses vibrant.
In fact, he is so busy with leather projects, he is still working even though he is retired, he said.
Johnson grew up on a ranch in a part of Phoenix that was considered "north" long, long ago. He learned his art form by working in shops throughout the Southwest and, over time, he came to know some of the finest leather workers in the world, he said.
For several years, he had his own shop on Miller Valley Road in Prescott, but he closed it 28 years ago and moved to Colorado. He and his wife returned to Prescott a little more than a year ago.
During his years away, he packed a lot into his leather-working career. Saddles have been his primary focus. And he's made all kinds - from fancy and ornate to "good working 'using' saddles" for trail riding and ranch work - his preference.
While Johnson lived in Colorado, he had the second-largest saddle-making school in the country, he said, and he taught students from all over the world. He has written books on the subject and sold more than 60,000 copies of the books and videos he has produced.
Johnson may have put his saddle work aside, but he keeps busy in his "retirement," turning out Hollywood-style holsters and restoring Rose Bowl-type solid silver parade saddles that are 50 years old or even more vintage than that.
"If I don't do these, they will be gone" for future generations, Johnson said. "They will be completely gone.
"This is why I have my studio," he said of the work he does. "It's crazy. I can't retire," he said, adding that he is a professional craftsman of leather luggage straps, as well as hood straps for such relics as antique Porches.
Because of his history in the world of leather-working, Johnson has been a driving force in bringing the 14th annual Southwest Leather Workers Trade Show to Prescott on March 6, 7, and 8 at the Prescott Resort.
Prior to this show, the event had taken place in Wickenburg, said Charil Reis, who, with her husband, Ralph Solome, owns the Leather Crafters & Saddlers Journal, which sponsors the trade show.
The Leather Crafters & Saddlers Journal is a bimonthly publication with articles that cover all facets of working with leather and is a resource for leather tools, machinery and allied materials, plus leather industry news.
Reis said they paid Prescott a visit last August and found it a "beautiful venue" for the event in a town with something for the whole family to enjoy.
Workshops beginning Monday, March 3, will accompany the trade show and will include sessions across the spectrum of interests, from advanced cinch techniques, chap making and custom leather and stone belt buckles to new dimensions in leather tooling, originality in western floral pattern layout and vaquero-style braiding. Prices for the classes vary. Information is available at www.leathercraftersjournal.com.
Forty vendors from across the country and as far away as Germany will be on hand, including many leather and tool suppliers.
The Prescott Exhibition of Leather Art at the Mountain Artists Guild and Gallery will be another feature of the trade show. The exhibition runs from Wednesday, March 5, through Saturday, March 8, and is free and open to the public. An artists' reception will take place from 5:30 to 7:30 p.m. Friday, March 7, at the gallery and will include the presentation of the Artists' Choice Award at 6:30 p.m.
In addition to perusing the trade and art shows, everyone is welcome to participate in a leather-carving contest in two categories, general and expert, from noon to 5 p.m. and 8 to 10 p.m. on Thursday, March 6, at the resort.
"It's going to be the largest Southwest show we've ever put on, with more vendors than ever," Reis said. "We're ecstatic about coming to Prescott. There's something for everyone to do. It's free and open to the public. You can't get bored in Prescott."
More like this story