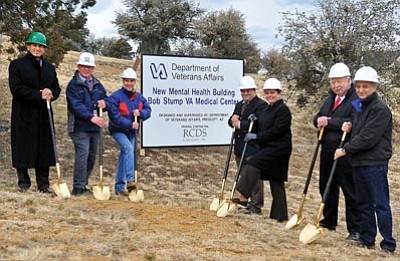 Originally Published: February 7, 2014 6 a.m.
The Northern Arizona Veterans Affairs organization kicked off the construction of a new outpatient mental health services building on Thursday with a groundbreaking ceremony.
"This is a very long-awaited groundbreaking ceremony, and we are most excited this day has come," VA Medical Center director Donna Jacobs said. "Sometimes we get things started and wonder if it will ever come to fruition. But, yes indeed, we are here to say it is coming to fruition."
The planned two-story, 18,000 square-foot building is being built behind the domiciliary, adjacent to the officer houses on the campus at 500 Highway 89 North.
The Smith Group JJR designed the plans for the building, VA spokeswoman Jean Schaefer said. The firm is one of the largest architectural and engineering companies in the United States, with offices in Ann Arbor, Chicago, Dallas, Detroit, Durham, Los Angeles, Madison, Phoenix, San Francisco, and Washington, D.C.
The construction contract was awarded to RCDS Contractors Inc. out of Glendale, which is owned by a service-disabled veteran and was established in 2006.
Schaefer said construction costs are estimated at $7.8 million. Funding to start the design and engineering process was included in the VA's fiscal year 2011 budget.
The project is expected to take between 14 and 20 months, Jacobs said, and is slated for completion on June 1, 2015.
The building will feature:
• Energy-efficient geothermal heating and air conditioning systems.
• An abundance of natural light.
• A variety of waiting areas for veterans and their families.
• A healing garden offering a peaceful and relaxed atmosphere.
• Sound-sensitive offices.
• Several large group rooms equipped with telecommunication components for group education, family involvement in veteran healthcare discussions, and weekly meetings with mental healthcare teams.
The new building will house the center's outpatient mental health services, which includes intake assessments, medication management, and individual and group psychotherapy for post traumatic stress disorder, traumatic brain injuries, substance abuse, homelessness, psychotic disorders and other mental health issues. There will not be any type of residential treatment programs offered in the new facility, Schaefer said.
"The staff is very excited to see actual tangible results that we really are going to get a building that is going to allow us to expand some of the services such as the neuropsych services," Service Line Manager Dr. Jerry Easterday said. "There's an awful lot of head injuries coming back, especially from the younger vets, and I think we will be in a better position to evaluate that. We are also looking to expand substance abuse services as well."
For more information on programs and services offered by the VA, visit
www.prescott.va.gov or call 445-4860.
Follow Tamara Sone on Twitter @PDCtsone
More like this story