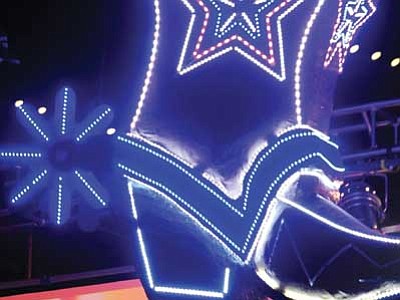 Originally Published: December 26, 2014 6:02 a.m.
UPDATE as of 12/30/14 - The carnival has been canceled due to weather. Please visit the following link at dCourier.com, for the latest on the Whiskey Row Boot Drop. (Click here.)
PRESCOTT - The 4th annual Whiskey Row Boot Drop on New Year's Eve will be more festive than ever this year with a Ferris wheel, carousel and carnival games.
The event is now being organized by M&M Entertainment, which has made several other additions as well.
The free event will start two hours earlier at 6 p.m., so families can have more time to enjoy the rides and games. Fireworks will be added to the 10 p.m. Boot Drop alongside the traditional midnight Boot Drop. And topping off the new additions will be "The X Factor" finalist Drew Ryniewicz of Chino Valley performing pop songs, said Matt Brassard of M&M Entertainment.
M&M Entertainment owners Matt Brassard and Marco Espitia also operate Matt's Saloon on Whiskey Row, and they started up the popular Enchanted Christmas display this year at Frontier Village. "We needed somebody enthusiastic about the event who wanted to take it over," said Tracey Horn, who continues to help market the Boot Drop. "Being Whiskey Row bar owners, they're the perfect fit."
M&M Entertainment wants to keep the Boot Drop a fun, family-friendly event, Brassard said. "It's the fourth year and it's become a tradition," he said. "We just want to see that tradition grow."
Last year the 6-foot-tall cowboy boot dropped from a Prescott Fire Department ladder truck to honor the department's 19 hotshots who were tragically killed in the Yarnell Hill wildfire that year.
This year the boot is returning to the top of the Palace Saloon, flashing its trademark LED lights as it drops to the roof.
While New York City started the tradition of dropping a ball to welcome the New Year, other cities have subsequently come up with a wide variety of items to drop, from a live possum in Brasstown, N.C., to an 800-pound peach in Atlanta.
The organizers of Prescott's first Boot Drop came up with the idea of the huge cowboy boot to honor Prescott's tradition as a great western town with the "World's Oldest Rodeo." Stephan Markov of Morgan Signs created the boot.
The cowboy boot earned a place on an L.A. Times list of seven unique New Year's Eve drops last year.
The Boot Drop event is becoming more and more popular with locals as well as visitors, Brassard said. Since it began, bookings for Prescott hotel rooms have increased by 68 percent on New Year's Eve, he said.
Last year some people ruined the fireworks by removing barricades and parking on the top floor of the Whiskey Row parking garage where the fireworks were supposed to be launched, Horn said. This year, the barricades are being reinforced to prevent that from happening.
The non-profit event is free to enter and organizers will be giving away huge foam cowboy hats. Ferris wheel rides will cost $2, carnival games will cost $3-$5, and the carousel rides will be free. Food including hot dogs, funnel cakes and kennel corn will be available for purchase, in addition to hot chocolate and coffee.
The event continues until 1 a.m., while some bars stay open until 2.
A taxi turnaround will operate at the south end of the event so people who have imbibed at the Whiskey Row saloons can find a safe ride home. Two programs will offer free taxi rides via bartenders, Arrive Alive and Do the Ride Thing.
The event is being presented by the City of Prescott, Prescott Area Hospitality Association and M&M Entertainment. Major sponsors are Earnhardt Liberty Kia and Frontier Village. See bootdrop.net for more details.