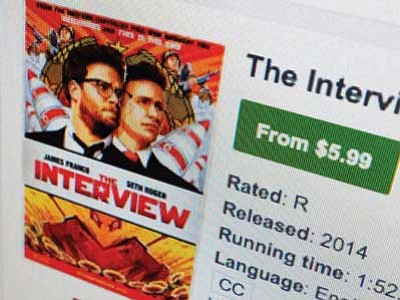 Originally Published: December 26, 2014 6 a.m.
Amid a swell of controversy, backlash, confusion and threats, Sony Pictures broadly released "The Interview" online this week - an unprecedented counterstroke against the hackers who spoiled the Christmas opening of the comedy depicting the assassination of North Korean leader Kim Jong Un.
"It has always been Sony's intention to have a national platform on which to release this film," Sony Pictures chair and CEO Michael Lynton said in a statement. "We chose the path of digital distribution first so as to reach as many people as possible on opening day, and we continue to seek other partners and platforms to further expand the release."
"The Interview" became available on a variety of digital platforms Wednesday afternoon, including Google Play, YouTube Movies, Microsoft's Xbox Video and a separate Sony website, a day after Sony and independent theaters agreed to release it in over 300 venues on Christmas. The wide digital release is the culmination of a set of deals that have been in the works since the major theater chains last week dropped the movie that was to have opened on up to 3,000 screens.
Seth Rogen, who stars in the film he co-directed with Evan Goldberg, cheered the decision. "I need to say that a comedy is best viewed in a theater full of people, so if you can, I'd watch it like that. Or call some friends over," he tweeted.
A Sony executive close to the matter said that there is concern over whether the company will recoup the $40 million cost of the film and the millions more spent on marketing, but that affordability and wide access were their main priorities. The executive also said more providers could sign on in the coming weeks and the option is still there for more theaters to show the film down the line. The executive said it remained an option for the major theater chains to show the film.