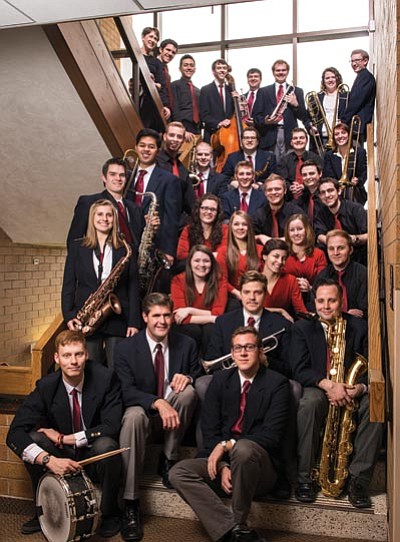 Originally Published: April 23, 2014 6:02 a.m.
Sound Alliance and Vocal Union from Brigham Young University-Idaho will perform in Prescott Valley at Glassford Hill Middle School Auditorium 7 p.m. Thursday, April 24, as part of its spring tour through Utah, Arizona, New Mexico and Nevada.
A limited number of free tickets are available with pre-reserved seating assignments. Call (928) 379-0527 or click here to email your ticket request. Include your name and how many tickets you would like.
Sound Alliance and Vocal Union combine together to create an instrumental and vocal concert meant for audiences of all ages. The groups will perform vocal and instrumental music written just for them, in addition to masterworks from the jazz tradition.
Sound Alliance, with its 16 band musicians, and Vocal Union, with 13 singers, will perform a variety of popular, big band and classic jazz tunes. The ensembles are under the direction of Dr. Mark Watkins and Nori Brower, faculty members of the BYU-Idaho Department of Music.
(The full email address for ticket requests is: NightAtTheSwingClubTickets@outlook.com)